Women in Cloud (WIC) and Accenture have joined forces to deliver a groundbreaking B2B coaching program designed specifically for women tech founders. This world-class program aims to help female entrepreneurs break into enterprise opportunities and accelerate their growth in the industry.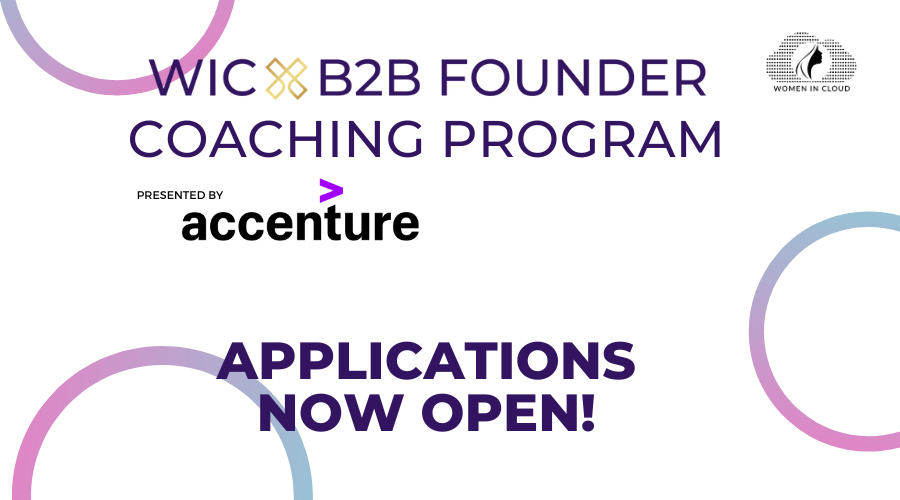 The program targets B2B tech female founders with a minimum of 2 years in business and at least one successful pilot. Eligible participants must have a SaaS tech solution built on Cloud Hyperscaler infrastructure such as Microsoft Cloud, AWS, or Google Cloud. Plus open to invest in cosell-led GTM activities to capture market share with Accenture and others.
Over six months, participants will commit 14 hours to the program, including 4 hours in meetings and 10+ hours in coaching sessions. They will lead the scheduling of meetings and maintain ongoing communication with Accenture business leaders.
Throughout the program, B2B Women Tech Founders will:
Explore industry alignments, product fit, and technology roadmaps.

Build relationships with industry leaders.

Provide feedback and ideas to improve the program.

Attend mandatory kickoff, closing, and check-in sessions led by Women in Cloud and Accenture (max of 3.5 hours over 6 months).
This innovative coaching program pairs female founders with Accenture executives and their customers, offering unparalleled industry-leading support. 
"It's not every day that we have the opportunity to mentor CEOs of emerging technology companies, and I'm grateful to have met, worked with, and learned from three awesome startup founders during the WIC/Accenture Coaching Program", said Accenture mentor Greg Reiser, Managing Director of Cloud First Networks. "Anytime someone takes your advice and then comes back to thank you for the impact you've made on their business, it's extremely rewarding." 
With B2B Women Tech founders strategically matched with Accenture Executives whose expertise aligns with their unique industry experience and business needs, this program is the ultimate tool to take your business to the next level and unlocks access to funding such as Microsoft Partner Capital Fund, Founder First Capital Partners, Chai Angels, Masterfund and others.
The program has already delivered valuable insights to entrepreneurs, with Accenture mentors focusing on refining product-market fit, developing industry partnerships, and finding and acquiring customers. The collaboration also allows Accenture to explore opportunities to adopt emerging technologies and provide strategic co-market and co-sell insights.
"Our time with Lori was extremely valuable. We discussed our purpose, target market, technical options and strategy, and contracting with enterprises", said participant Andrea Sorenson, CEO & Co-Founder of Liiingo. "Her insights have helped us understand our options, make key decisions, and develop a clearer strategy. Lori asked great questions, understood our challenges, and offered her insights with respect and encouragement."
Requirements to get engaged:
Complete WIC Founder Application which takes 15 to 25 minutes. 

Once you are qualified, you will be required to process nominal operational fees of $295. This program will automatically qualify you to participate in #WICxTOP100 Brand Visibility Program.

Then, you will be invited to participate in the B2B Coaching Program for 6 months. 
To know more about the program visit the B2B Founder Coaching Program Page
Learn about Women in Cloud's partnership with Accenture and join the movement to empower women in the tech industry.
https://womenincloud.com/wp-content/uploads/2023/06/coaching-program-900-×-500-px-2.png
500
900
wicwpuser
https://www.womenincloud.com/wp-content/uploads/2021/04/logo.png
wicwpuser
2023-06-15 19:05:22
2023-06-16 15:03:13
Women in Cloud and Accenture Join Forces: Launching Second-Year B2B Coaching Program to Propel Female Tech Founders into Billion-Dollar Markets