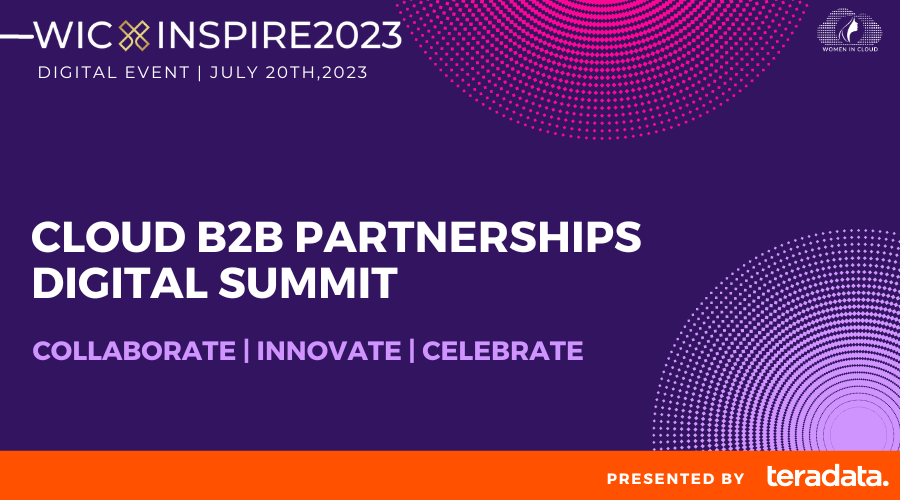 Join us at #WICxInspire2023: Cloud B2B Partnerships Summit where women B2B SaaS founders, CEOs, and cloud tech leaders come together to unlock B2B Opportunities and build Customer-First GTM Strategies Leveraging Marketplaces.
Collaborate with industry leaders, attend interactive workshops, and network with like-minded individuals to elevate your business. Don't miss out on this chance to shape the future of B2B partnerships in the tech industry. Register now and be part of this unique opportunity to take your business to the next level. In addition, be part of the celebration of icons and role models at #empowHERaccess 2023 Awards ceremony.
 #WICxInspire2023 is designed to empower women tech founders and cloud channel companies to build game-changing B2B partnerships that create new customer demand and opportunities, driving innovation in the tech industry.
"At Teradata, we understand that collaboration is the key to wide-scale growth and success in today's complex tech landscape," said Jacqueline Woods, Chief Marketing Officer of Teradata. "In fact, we pride ourselves on our partner-centric approach, so we are delighted to work with Women in Cloud to present #WICxInspire2023. Promoting the importance of like-minded B2B partnerships is critical to enabling growth throughout the cloud tech industry."
Despite women making up only one-third of B2B sales jobs, research shows that they often outperform their male counterparts. In fact, a recent survey by Xactly, a SaaS-based solution provider, found that 86% of women surveyed achieved their sales quota, compared to 78% of men. This highlights the importance of creating opportunities for women to establish B2B partnerships in the tech industry.
"Women tech entrepreneurs are currently represented at only 2% in the enterprise digital transformation," shared Chaitra Vedullapalli, President of Women in Cloud, she continued, "If women are given a platform to establish game-changing B2B partnerships, it will significantly impact and develop innovative SAAS solutions, create jobs, and significantly impact global GDP."
Set to take place on July 20, 2023, this Flagship event gives attendees a unique opportunity to network via virtual summit with like-minded individuals including SaaS Founders, CEOs, and Cloud channel companies to build new connections, share insights and experiences, and create innovative B2B partnerships that drive growth and success.
The agenda includes:
Opening Remarks & Teradata with Nancy Watt as our EMCEE and Andrea Onilude from Teradata

Keynote: Decoding Digital: Building Game-Changing Partnerships for the Future (Recorded Session) – by John Datan, SVP and General Manager at Insight

CXO Panel1: The Future of Cloud B2B Partnerships: Trends and Predictions – Kristen Miller as a Moderator and the Panelists: AnneMarie Dev, Robin Liebowitz and Anu Mohan

#Cloud GTM: Insights from Cosell Market Research & Key Takeaways with Chaitra Vedullapalli and Chip Rodgers

CXO Panel2: Navigating the Complexities of Cloud B2B Partnerships: Best Practices and Lessons Learned – Karen Fassio as a moderator and the panelists: Allison Mcfadden and Kate Mayer

#CloudFounder Bootcamp: Strategies secure GTM Funding for generating joint customer acquisition with Jen Dawson and Chaitra Vedullapalli

CXO Panel3: Building Trust and Credibility with Customers: How Cloud Hyperscalers are Empowering their Channel Partners –

Moderator : Regina Johnson and the Panelists: Danny Brown, Lesley Scholes, Colleen Hoagland

Ask The Experts & Networking –

Moderator: Chaitra Vedullapalli and the

Panelists: Dexter Harding, Danny Brown, Karen Fassio, Eddie Bader, Jason Boggs, Jennifer Estes

#empowHERaccess Awards Journey with WIC (Share insights & partnership details)

Closing Remarks & Accenture B2B Coaching Program Announcement
The event will culminate in a formal in-person awards ceremony, recognizing Winners of the 2023 #empowHERaccess Awards that honor entrepreneurs, businesses, leaders, and allies who have ignited equitable economic access and facilitated inclusive and sustainable spaces for women tech entrepreneurs and professionals.
Register for the #WICxInspire 2023 here: https://www.eventbrite.com/e/638536799757
And for the In-Person #WICxICONS dinner and #empowHERaccess Celebration here: https://www.eventbrite.com/e/642534817937
https://womenincloud.com/wp-content/uploads/2023/05/Eventbrite-Banner.png
500
900
Caroline Berrios
https://www.womenincloud.com/wp-content/uploads/2021/04/logo.png
Caroline Berrios
2023-07-12 23:41:17
2023-07-12 23:42:30
Women in Cloud and Teradata Corporation Join Forces to Host #WICxInspire2023: Cloud B2B Partnerships Summit