On Thursday, July 14, the Women in Cloud community engaged in #WICxINSPIRE, presented by Kyndryl. Where we reimagined the use of hyperscaler cloud marketplaces to drive digital transformation and a new route to market.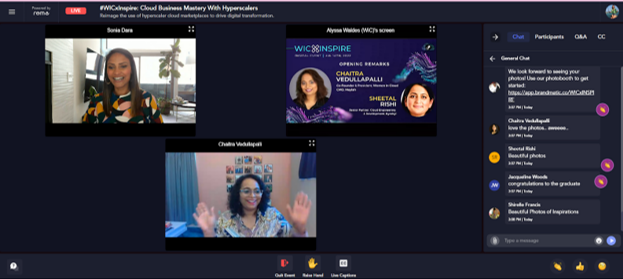 Emcee Sonia Dara, Chief of Staff at Microsoft, created a warm welcome at the stage. Chaitra Vedullapalli, Co-Founder & President, Women in Cloud and CMO, Meylah and Sheetal Rishi, Senior Partner, Cloud Engineering & Development at Kyndryl brought important information and contagious excitement of strategic partnership with Women In Cloud within the Opening Remarks.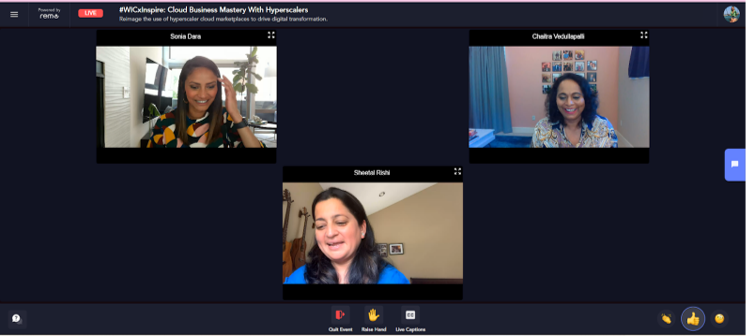 Then our Keynote, Jacqueline Woods, EVP & CMO at Teradata, brought us Leading Strategic Partnerships with Hyperscalers with audience Q&A led by Michelle Pruitt, Principal Program Manager, Microsoft & Women In Cloud Board of Advisor.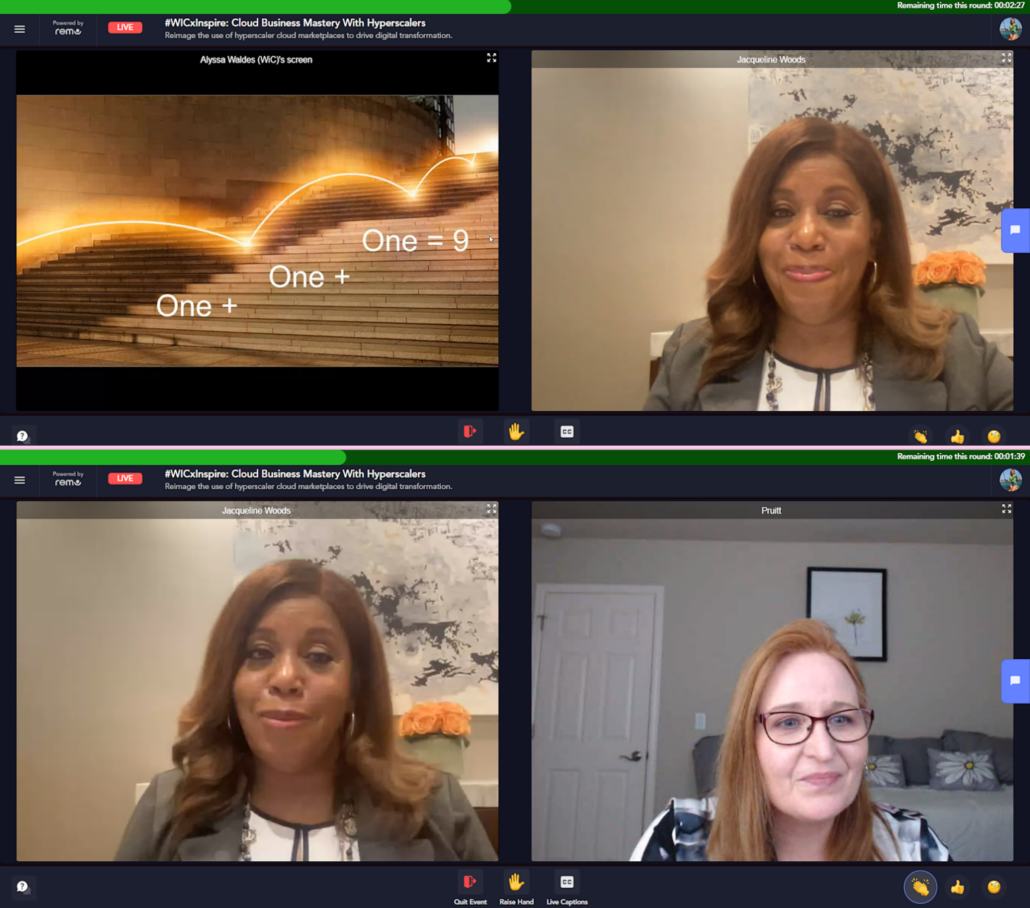 The CXO Panel: Mastering Co-Sell GTM with Hyperscalers with Gail Mercer-Mckay, Vince Menzione, Amy Bray, and Annemarie Dev, moderated by Sharan Hildebrand. This panel showed you how to make sure that you have all the right factors in place before launching any new products or opening any new channels.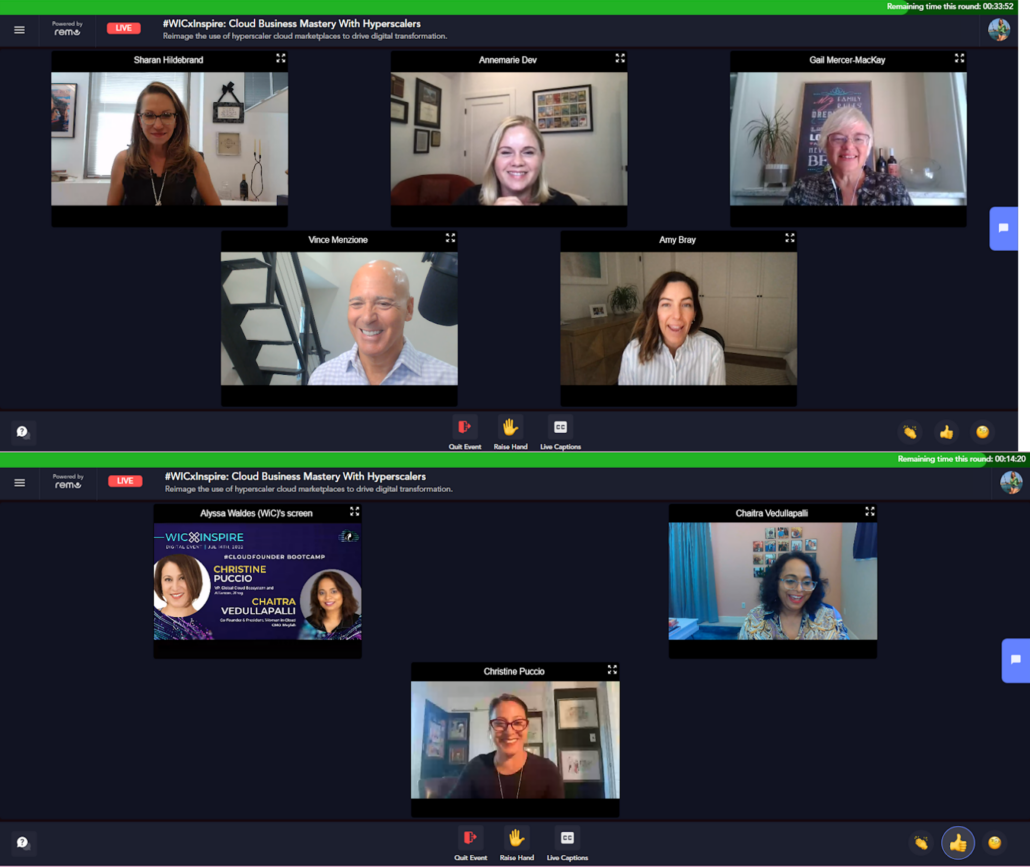 Then we went to Bootcamp! #CloudFounders Bootcamp began with Christine Puccio, VP, Global Cloud Alliances & GTM Programs, JFrog and Chaitra Vedullapalli led us through a Fireside Chat on "Leading Co-Sell Product Launch Strategies with Hyperscalers." Then Chaitra Vedullapalli, led the workshop "How to Secure Funding For Eligible GTM Strategies from Hyperscalers" with proven tactics for your GTM strategy.
Next we celebrated the finalists and winners for the #empowHERaccess 2022 awards, Emceed by Amy Protexter, Senior Vice President, North America Marketing at Insight. We had wonderful award presenters from our sponsors: Camille Geiger from Boeing for the Cloud Advisor of the Year Award Presenter; Regina Manfredi from Teradata for the Supplier of Year Award Presenter; Andrea Perkins from Insight for the Digital Transformation Project of the Year; Dikasse Zalla from Avanade for the Investor of the Year Award; Katie Franzen from Accenture Women in Technology Outstanding Leadership Award.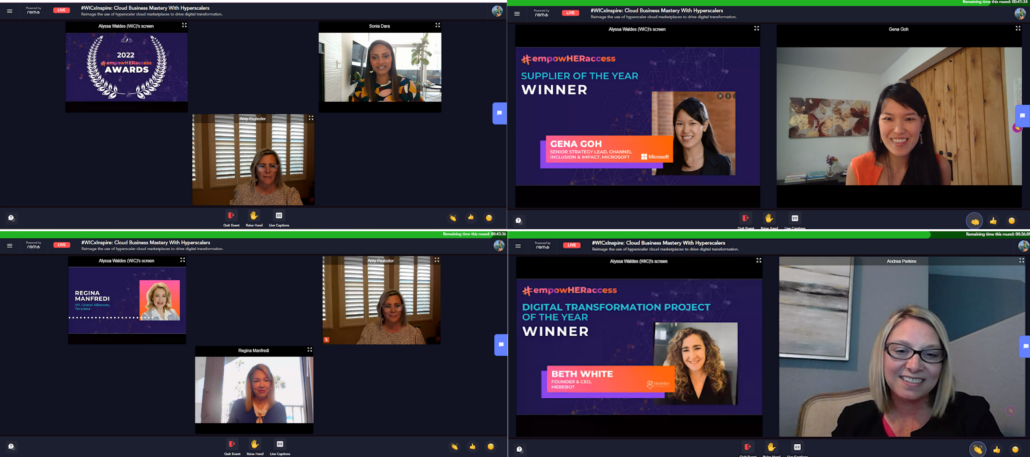 Congratulations to the winners: Gena Goh, Beth White, Neal Dempsey, Ashley Miller, Elif Tutuk!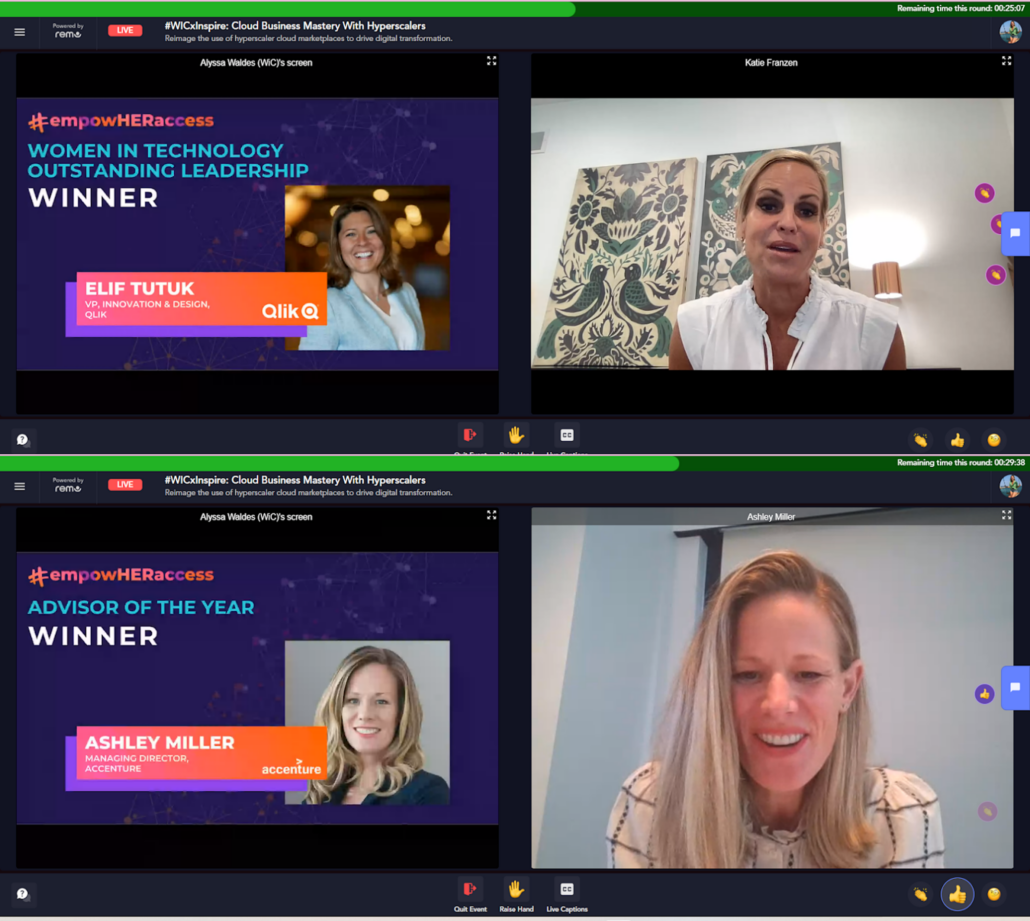 Then we joined our masterclass of advisors for intimate roundtable discussions on: Tech Leadership Roles, Executive Leadership and Presence, Tech Platforms, Business Partnerships, and Business Conversations. Thank you to our advisors: Nehal Mehta, Sreelakshmy G, Colleen O'Brien, Dhaval Shah, Sandhya Parameswara, Shirelle Francis, Anamarie Franc, Sahiti Bayana, Keri Smith, Geetha Gandhi, Ebony Burroughs, Amina Sartaj, Laura Sewell, Natasha Eichman, and Emily Colby.
Keep an eye for WIC's next exciting initiatives: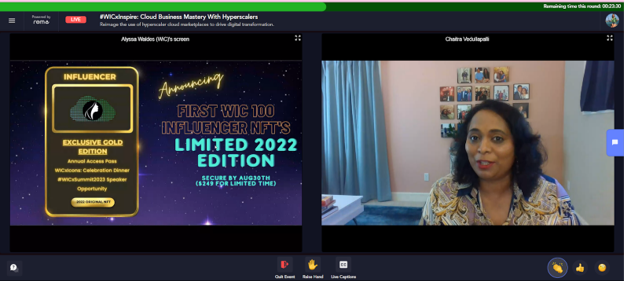 Announcing the first WIC 100 Influencer NFTS! 
Get your WIC Influencer Limited 2022 Edition NFT:

Pre-Order

Now! 
The Exclusive Gold Edition NFT Includes Access to:
Annual Access Pass

WICxIcons Celebration Dinner

#WICxSummit2023 Speaker Opportunity
https://womenincloud.com/wp-content/uploads/2022/08/Inspire2022-blog3.png
1891
2145
wicwpuser
https://www.womenincloud.com/wp-content/uploads/2021/04/logo.png
wicwpuser
2022-08-29 18:48:59
2022-08-29 18:48:59
WICxInspire 2022 Recap: Adoption of Cloud Marketplaces As A New Route to Enterprise Market