The relationship between the defense industry and technology is symbiotic, with technological advancements driving innovation in defense and defense requirements fueling the development of cutting-edge technologies. In an era where technology plays a pivotal role in defense, women are emerging as influential leaders, shaping the future of defense technology.
Women in defense technology bring a unique perspective to the table as their diverse backgrounds and experiences contribute to a rich tapestry of ideas and solutions. By breaking down gender barriers and excelling in their roles, these women serve as powerful role models for aspiring individuals, particularly young women, who may have been discouraged from pursuing careers in defense technology.
Chaitra Vedullapalli, the founder of Women In Cloud, words reflect the power of dreams and determination in shaping one's path. "As the daughter of a Major in the Indian Army, I have always aspired to follow in my father's footsteps and become an Air Force pilot. Like him, I believe in the values of education, security, and empowerment, and it is with great pride that I introduce to you the Sashakti Samman Campaign", said Chaitra.
Women in Cloud, in collaboration with Veeam® Software India, a leader in Data Protection and Ransomware Recovery is thrilled to unveil the #SashaktiSamman campaign, powered by TechObserver and supported by Veeam's Women in Green and Women in Cloud initiatives. Through #SashaktiSamman, we seek to recognize and honor some exceptional women leaders who have seamlessly integrated technology into the defense sector, ensuring data security, resilience, and innovation. 
The #SashaktiSamman campaign offers key benefits and objectives, including highlighting role models in the Defense sector to inspire women in leadership roles, inviting channel companies to integrate sustainability and diversity, equity, and inclusion (DEI) goals, unlocking educational and career opportunities in data protection, and encouraging participation in the #empowHERaccess India Awards platform to recognize trailblazers, tech leaders, allies, and mentors in the data protection and security ecosystem. Together, these efforts drive empowerment, diversity, and innovation in shaping the future of defense technology.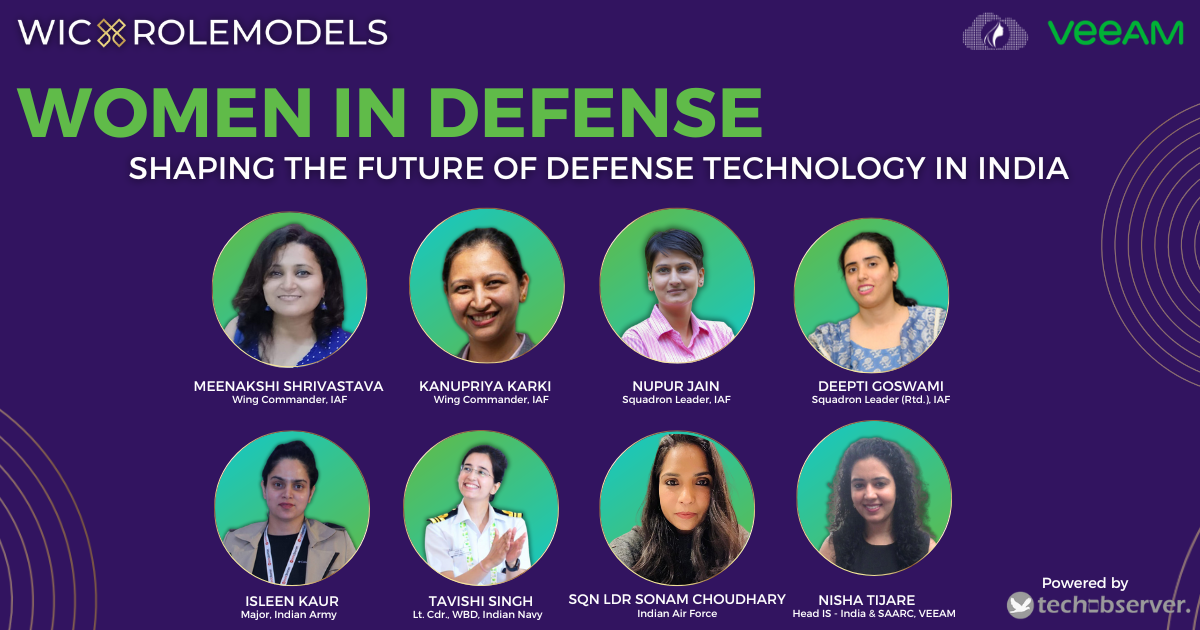 As the movement gathers steam, we extend an invitation to all, to unite with us in commemorating these pioneering women who are at the forefront, spearheading India's technological progress and safeguarding its national security. 

Wing Commander Meenakshi Shrivastava, Indian Air Force 

Wing Commander Kanupriya Karki, Indian Air Force 

Squadron Leader Nupur Jain, Indian Air Force 

Squadron Leader Deepti Goswami (Retd) Indian Air Force 

Major Isleen Kaur, Indian Army 

Lt Cdr Tavishi Singh, WBD, Indian Navy 

Smt. Nisha Tijare, Head IS – India & SAARC
Key Benefits and Objectives of #SashaktiSamman:
Role Model Spotlight Campaign: The campaign positions in highlighting role models in the Defense sector and inspiring women to leadership roles to drive data protection and security.

Invitation to all channel companies to join #SashaktiSamman campaign to integrate their sustainability and DEI goals to serve defense and government entities in India, while experiencing increased brand activation, perception, and visibility in the government and defense sectors.

Unlocking educational and career opportunities for women to contribute in Data Protection & Ransomware related solutions to safeguard the nation's vital information.

Participate in #empowHERaccess India Awards platform to recognize trailblazers, tech leaders, allies and mentors in the  data protection and security ecosystem.
 Join us in recognizing the extraordinary accomplishments of these women leaders as we celebrate their intelligence, innovation, and invaluable contributions to India's defense and government sectors. Together, let's applaud these trendsetters who are #LeadingTheFront and breaking barriers, remodeling the future of defense technology.
To be part of the conversation, sign up for NATIONAL DEFTECH SUMMIT2023 powered by TechObserver on Jun 09, 2023 in New Delhi.
Contributed by Charane Veeri , WIC Intern
https://womenincloud.com/wp-content/uploads/2023/06/VEEAM-INDIA-ROLEMODEL-DEFENSE-4.png
630
1200
wicwpuser
https://www.womenincloud.com/wp-content/uploads/2021/04/logo.png
wicwpuser
2023-06-07 19:37:19
2023-06-09 16:35:21
#WICxRoleModels: Top Women in Defense Shaping the future of Defense Technology in India