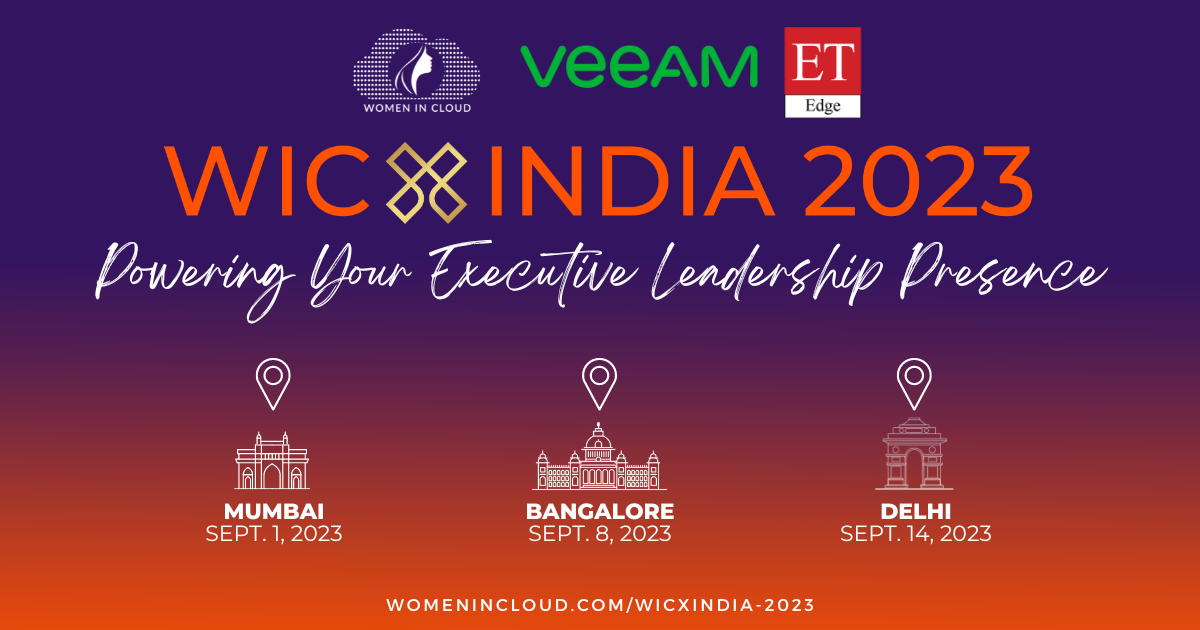 Women in Cloud, alongside Veeam, ET Edge (A Times Group Initiative), and Tech Observer, is proud to announce the launch of #WICxIndia 2023. This monumental initiative celebrates India's groundbreaking cloud and artificial intelligence (AI) ecosystem while creating pathways for women's leadership growth.
Revolutionary Event Unveiled
This three-city, five-day in-person event boasts captivating keynotes, thought-provoking panels, immersive workshops, prestigious awards, and extensive networking. Center around the theme "Powering the Executive Leadership Presence," #WICxIndia 2023 brings together industry leaders, subject-matter experts, and entrepreneurs, including Veeam's Vice President Marketing Belinda Pervan, Aditya Birla Group Group Chief Data and Analytics Officer Pankaj Rai, Honeywell's Chief Compliance Officer Piya Haldar, Accenture's Managing Director Gopali Raval Contractor, Veeam Software's MD India and SAARC Sandeep Bhambure, Women in Cloud's President Chaitra Vedullapalli, Microsoft's General Manager Monika Mital and Ntegral's CEO Dexter Hardy.
"India is making leaps in the world of cloud and AI, and it's the women at the forefront who are driving this economic transformation. #WICxIndia 2023 isn't just about events; it's a powerful celebration of visionaries and changemakers who are defining India's digital future," states Chaitra Vedullapalli, a renowned thought leader in the tech industry.
A Journey of Empowerment and Recognition
1) Starting September 1st, the #WICxIndia 2023 event will kick off in Mumbai, Bangalore, and Delhi, providing a rich tapestry of insights and inspiration. The #empowHERaccess awards platform, a core part of the event, will recognize over 60 pioneering role models who are shaping the future of technology through transformative change.
2) On September 8th, Bangalore will be the hub of technological brilliance and innovative discourse as it hosts the prestigious #WICxIcons Awards Celebration Dinner. This elite gathering is set to underscore key policy dialogues, foster allyship, and discuss the latest in cloud management.
3) Rollout of #SashaktiSamman Phase 2 Campaign will Celebrate exceptional figures within the government sector, igniting women's leadership while driving data protection and security and bolstering the nation's digital defenses.
4) Microsoft and Veeam Partner to Unlock Employment Opportunities Through Cloud Micro Credentialing Scholarships aimed at empowering women in the fields of Data Protection and Ransomware solutions. This initiative seeks to unlock employment opportunities while addressing the crucial need to safeguard India's critical information in the digital age.
"As India charts its path in the cloud and AI frontier, it's the women at the helm who are setting the pace. #WICxIndia 2023 isn't just about technology; it's a celebration of visionaries and changemakers who are crafting the nation's digital destiny." – Dexter Hardy, CEO of NTEGRAL
To explore the program of speakers, visit https://womenincloud.com/wicxindia-2023/.
Buy your tickets here
By uniting with us, you contribute to a brighter future for women leaders across India.
Save the date and prepare for an extraordinary experience at #WICxIndia 2023!
https://womenincloud.com/wp-content/uploads/2023/08/Landing-Page-Eventbrite-banner-3.png
630
1200
Caroline Berrios
https://www.womenincloud.com/wp-content/uploads/2021/04/logo.png
Caroline Berrios
2023-08-18 16:27:58
2023-08-18 16:29:19
Shaping India's Future: #WICxIndia 2023 Revolutionizes Women's Leadership in the Cloud and AI Ecosystem