Women In Cloud
On April 22, the Women in Cloud community joined together as we hosted a special edition of #WICxFortune100 Lunch and Learn. Salesforce Ventures features "A Guide to Corporate Venture Investing: Learn the Ins and Outs from Salesforce Ventures."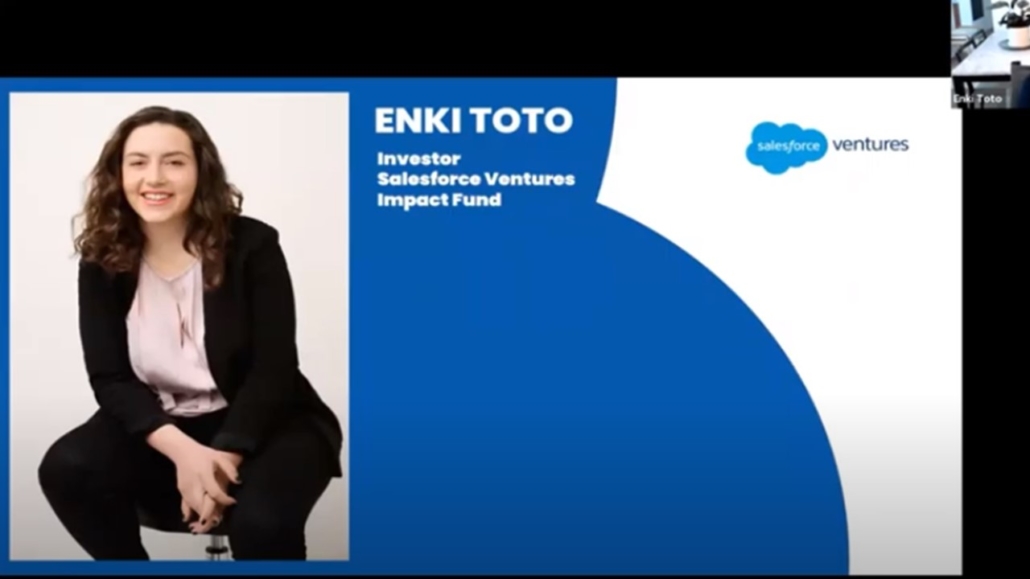 To begin the event, Erin Northern, Partnership Lead for Women in Cloud (WIC) set the stage to introduce WIC and Salesforce Ventures. Erin greeted the audience and encouraged an active chat within the attendees. Attendees came from 5+ countries around the globe, all with a goal to learn and be inspired by the event today. 
Watch the introduction here:
Next, Salesforce Ventures brought Enki Toto, Investor for Salesforce Impact Venture Fund to the stage for the Keynote: A Guide to Corporate Venture Investing. Enki gave an in-depth presentation on the basics of investing and how corporate venture capital is different. With insightful questions from the chat, Enki delivered a well rounded approach to the topic, breaking down ideas and methods to teach and engage the audience.
Enki focused on the following topics: 
How to prepare for your pitch
Due diligence, risks, and closing the deal
Enki is currently an investor on the Salesforce Ventures Impact Fund, Salesforce's corporate venture capital fund that invests in cloud technology solutions with a demonstrable impact in Education and Workforce Development, Sustainability, DE&I, and the Social Sector. She's been involved in the company's investments in BlocPower, Circulor, Crehana, Ellevest. and Propel.
Watch Enki Toto here: https://youtu.be/0bpqONyLC54
With this special edition of the #WICxFortune100 Lunch and Learn featuring Salesforce Ventures, WIC captured a niche audience and brought important information to the stage. 
Useful Resources: 
https://womenincloud.com/wp-content/uploads/2022/05/enkitoto.jpg
720
1280
Chaitra Vedullapalli
https://www.womenincloud.com/wp-content/uploads/2021/04/logo.png
Chaitra Vedullapalli
2022-05-31 23:35:36
2022-05-31 23:35:36
WICxFortune100 Recap : A Guide to Corporate Venture Investing - Learn the Ins and Outs from Salesforce Ventures