WIC is excited to announce the launch of our 7th Cloud Accelerator Cohort, beginning virtually on May 26th, 2022. Our unique accelerator program enables female tech founders to leverage the power of partnering with hyperscalers like Microsoft, Google, and IBM to become enterprise and Cosell ready. 
Women in Cloud has successfully graduated 70+ women-led companies over 6 previous cohorts with a global expansion including 9 countries around the world: United States, Canada, the United Kingdom, France, Germany, India, Kenya, South Africa and the United Arab Emirates.
The WIC entrepreneur community asked and We ANSWERED! We've adjusted the program to be even better than before.
Now A 3-month immersive program with even MORE benefits, including a 3 year relationship with the Women in Cloud community. During this immersive 3-month program the Cloud Accelerator provides: access to industry leaders, structured training, office hours, industry events, self-learning content, and more, all via digital platforms making the Accelerator accessible to women-led businesses worldwide. Women in Cloud is excited to announce the following 9 companies that have been accepted in the WIC Cloud Accelerator 7.0 Cohort of their award-winning Cloud CoSell Accelerator: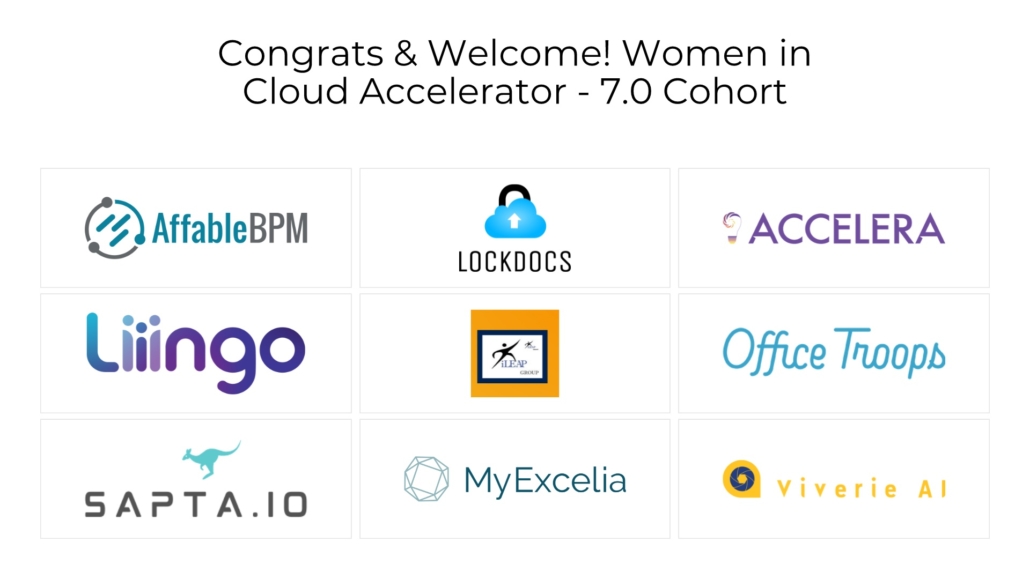 This kickoff focused on helping founders develop their future vision and this experience was led by Patti Dobrowolski, 3 Times TEDx speaker and inspired the founders to design their co-sell plan.
Here is the output of what a vision of equitable equity and access looks like for women founders.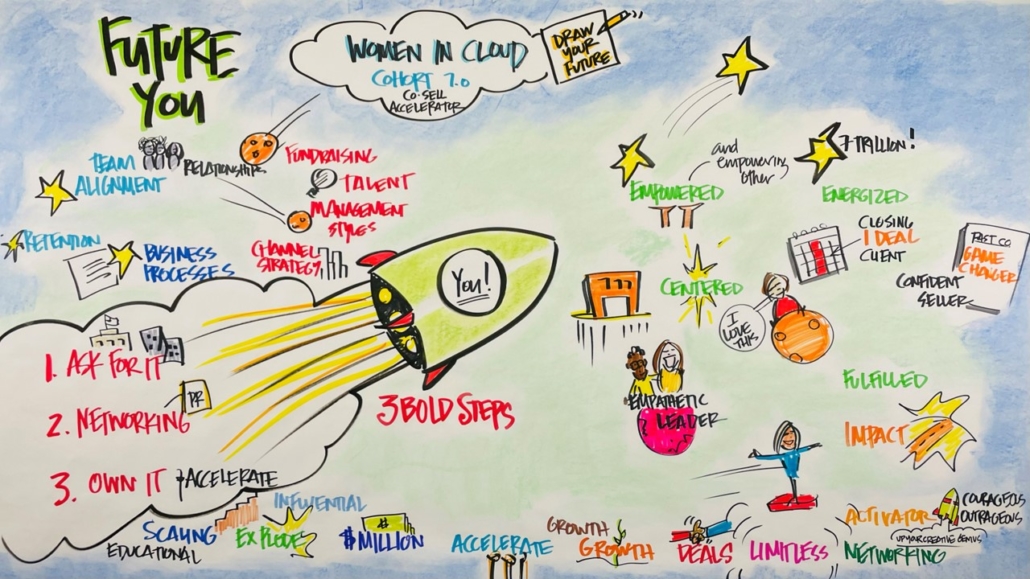 Going digital has let us expand our horizon and open this program to people from around the world rather than just a region. 
This year's WiC Cloud Cosell Accelerator is more than just an effort to make economic contributions to the system by empowering entrepreneurs. It is about embracing the new normal and moving forward with a sense of community. It is about adopting self-empowerment and finding comfort in knowing where to turn for support with a community at your side. Most importantly, it is about collective growth and learning.
The Cloud Cosell Accelerator combines training, access to industry leaders, structured training and office hours, industry events, self-learning content, and more, all via digital platforms making the Accelerator accessible to women-led business worldwide. Women in Cloud is excited to announce the following companies as accepted in the 7.0 cohort of their award-winning Cloud Cosell Accelerator:
AffableBPM- SaaS based Fully Customizable Business Workflow Management to provide Automated Compliance checks, Paperless – end to end, Cut down manpower up to 65% and Cost savings up to 50% . It is quick and easy to install and adopt!

Liiingo– Liiingo's platform enables businesses to effectively connect, engage, and their shared customers' journey, so they can nurture and benefit from repeat business and referrals. Liiingo's mobile engagement platform removes those barriers for customers with our patented language delivery solution, as well as providing an intuitive an engaging experience.

LockDocs: LockDocs is a Digital-identity-as-a-service platform for the financial services sector. We are transforming how financial institutions collect and manage and customer data by offering a frictionless customer experience and generating significant time and cost savings in the process.

MyExcelia: MyExcelia is an AI-powered voice-enabled pocket coach that records voice, translates to text, anonymizes input, and provides in-the moment communication improvement feedback to managers, coaches, leaders, and employees at all levels without further input or effort from the employee.

OfficeTroops: Offers a global technology supported service to help small and medium organizations source, manage and nurture their future talent. The fight for talent requires a concerted effort at career brand development, candidate engagement and technology in hiring. Large organizations have substantial budgets to do this. We bring that same caliber to small and mid size businesses (SMB) who might otherwise lose out in this fight. Our solution centers around a white labelled hiring platform combined with concierge level placement services. We augment SMB hiring teams from day one and give them hiring scale at an attractive price point.

Accelera : The Maestro Ecosystem is a complete, all-in-one digital transformation tool. We partner with various technologies in payments, finance, and customer service through the API management layer. We use a digital identifier in a multi-tenanted environment to segregate a client's data, which is orchestrated, headlessly, and displayed on a webpage.

Sapta Inc: Sapta is a cloud-based enterprise value management software built to help organizations achieve sustainable accelerated growth eliminating management chaos. The integrated management platform helps enterprises build OKRs, fuel innovation, make faster business decisions, and create a seamless CX journey.

Viverie AI: Viverie AI is the vision and brain for various types of smart robots, cameras, and sensors. Through collaborative training, our AI can be your solution for your specific needs. 

iLEAP Group: A Cloud MSP Provider transforming HBCU ecosystem with Cloud Services with IP based solutions.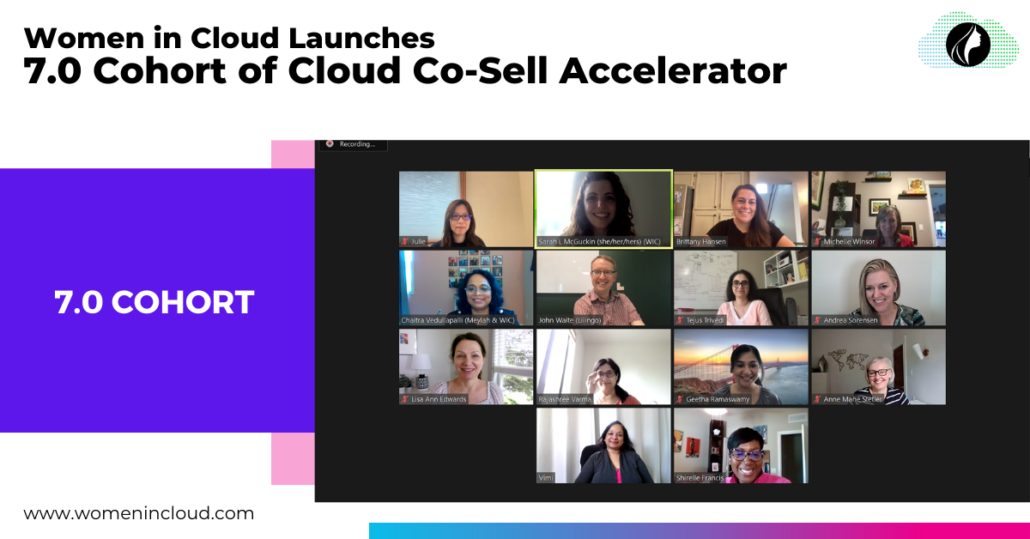 Do you want to participate in the WIC Cloud CoSell Accelerator but missed the deadline? Don't worry you can apply to be a part of our next Cohort HERE that is expected to roll out in late September.  
If you think you'd like to apply for the Accelerator Program but not sure if your business is ready yet?
Join us for the #MillionDollarPartnershipChallenge June 21-24, designed to prepare women-led tech businesses for the next steps.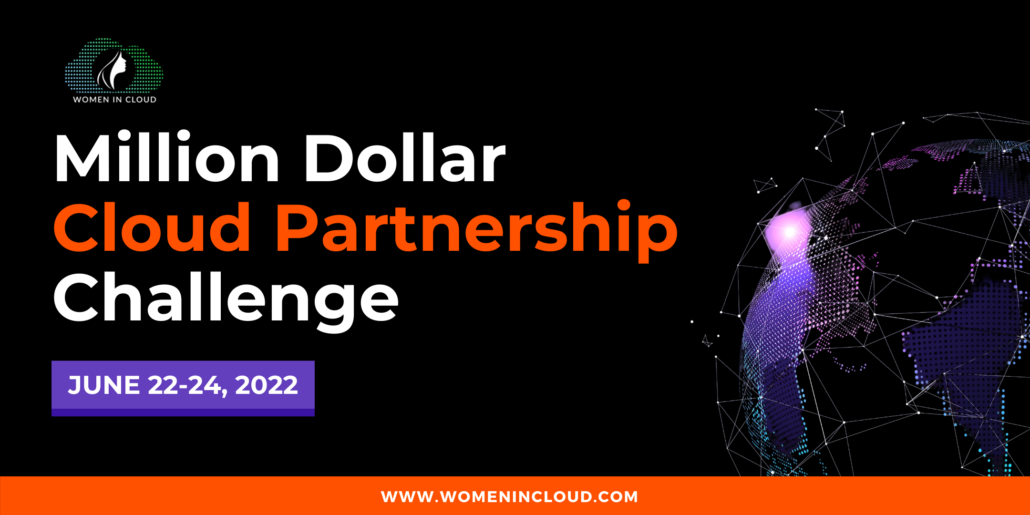 We invite you to apply. Click HERE to learn more: https://womenincloud.com/initiative-cloud-accelerator/
Women are the key drivers of the economy; by accessing the resources needed to launch and sustain businesses, Women in Cloud will address the economic inclusion to co-develop and co-market solutions by providing women the tools, knowledge, and networks they need to build a successful enterprise-ready cloud business.
https://womenincloud.com/wp-content/uploads/2022/05/Copy-of-Blog-Header-Cloud-Accelerator-Cohort-6.0-Entrepreneur-Announcement-1200x628-1.png
628
1200
wicwpuser
https://www.womenincloud.com/wp-content/uploads/2021/04/logo.png
wicwpuser
2022-05-26 17:58:37
2022-05-27 16:24:37
Women in Cloud Launches Cohort 7.0 of Cloud Cosell Accelerator