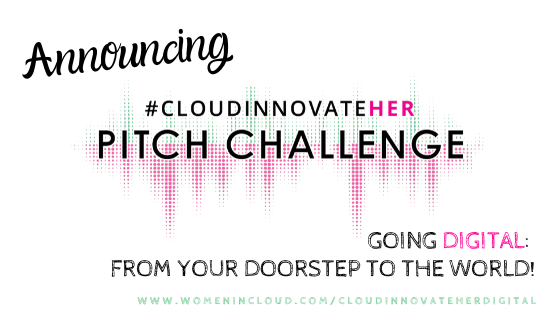 Our community is stronger now than ever before. The year 2020 started off as an exciting era with our third annual Women in Cloud Summit with tremendous hope for the future. But now we have hit a bump on the road with the rise of the COVID19 pandemic. However, we at Women in Cloud are determined to keep working towards our mission to help women entrepreneurs create $1 billion in economic opportunity by 2030!

At the Women in Cloud Summit 2020 we launched our inaugural #CloudInnovateHER Pitch Challenge which was designed to help women tech entrepreneurs across global markets develop, showcase and win enterprise customers. This competition was designed to provide economic access and industry visibility to women tech entrepreneurs while also giving them an opportunity to present technologies that create a sustainable impact in today's world. The positive response from the community has now pushed us to launch #CloudInnovateHERxDigital.
Yes! We come bearing some exciting news for all the quarantined female technology entrepreneurs from around the world. Women in Cloud is taking #CloudInnovateHER digital and will allow everybody to showcase their enterprise ready cloud solution to the world on the most powerful platform in the world: the internet.

How do you enter?

Well, it is quite simple. Women-led companies developing an enterprise-ready cloud solution that's earned less than $10 million in the past 12 months qualify to enter. Enter your business pitch or encourage others who qualify to enter. Solutions will be evaluated for originality, market feasibility, and use of cloud and AI solutions. Deadline to enter – April 24, 2020. Click Here to Apply

Why should you enter?

Women in Cloud is a network of over 1500+ industry leaders, policy makers and innovationists who are always looking for the next best solution available. This pitch challenge could provide your company access to the markets as well as the unique Women in Cloud Microsoft Accelerator program designed to further enhance the knowledge and techniques of an entrepreneur in the technology industry.

This is a chance for startups and companies to compete on a global scale for a share of $5,000 in cash and cloud credits and we are more than excited to bring this chance to your doorstep.
Click here to apply now and join our Women in Cloud Network and embark the journey of building an inclusive tech economy.
Join the Digital Event and Vote for Your Favorite Pitch!
Join us on Friday, May 1 at 12pm PST to see the live webinar of the pitch challenge. We will feature 10 finalists that will showcase their solutions to a panel of esteemed judges. The community will be invited to learn more about the companies and vote for their favorite pitch to win the People's Choice award, which will be announced the following week on May 8. Register to attend #CloudInnovateHERxDigital today!
https://womenincloud.com/wp-content/uploads/2020/04/CloudInnovateHERxDigital-Blog-Header.png
315
560
Chaitra Vedullapalli
https://www.womenincloud.com/wp-content/uploads/2021/04/logo.png
Chaitra Vedullapalli
2020-04-09 16:20:44
2020-04-13 17:41:56
Announcing #CloudInnovateHERxDigital: From your Doorstep to the World!