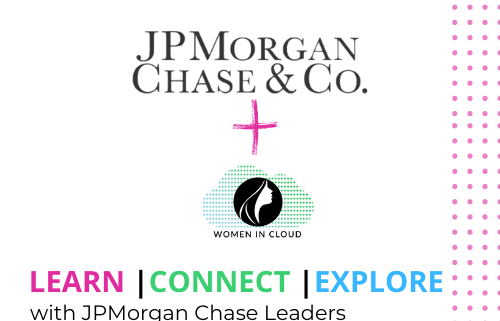 Last February 25, we hosted a new and exciting Lunch and Learn session with one of the Fortune 100 companies: JPMorgan Chase. The #WICxFortune100 Lunch and Learn series is a space where women in tech can connect, learn, and network with fortune companies and brands. Its goal is to generate access to new jobs opportunities focused on digital transformation, teach how to navigate and do business with the company, create new connections, and get a deeper insight into innovative enterprise-ready cloud solutions.
JPMorgan Chase is committed to its talent, diversity, and equity.
JPMorgan Chase is deeply committed to diversity and inclusion. Ebele Kemery, Head of Global Technology Diversity, Equity & Inclusion, started the session with a Power Talk about the power of strategic partnering with JPMorgan Chase and how it shapes the interaction and growth of the company globally. She also emphasized the importance of DEI for the company and how "the diversity of our perspectives and backgrounds are critical to developing new ideas."
Nowadays, JPMorgan Chase is deeply focused on developing new Data and Cybersecurity technologies to keep improving the relationship with their customers and expand to new markets. Nonetheless, for the Head of Architecture, Cloud, and Engineering, Stephen Flaherty, talent stays at the forefront of the company alongside its diversity and inclusion culture.
Power Panel: Trifecta Approach to Building Strategic Relationship with JPMorgan Chase
We also held the largest panel in the history of WIC's Lunch and Learn series so far. The panel took place with the participation of Monika Panpaliya (Head of Global Technology Product & Agility Office)as moderator, Kanti Shrestha (Head of Enterprise Technology Communications), Lauren Goodwin (Chief Technology Officer), Thulasi Kethini (Head of Software Engineering, Data Platform, Executive Director), Sarita Bakst ( Head of Information Architecture for Firm Wide Data Management), Arup Nanda (Global Head of Architecture – Enterprise Data), Zubair Quazi (Managing Director, Core Development), and Manasa Hari (Head of Data Platform Foundational Services, Executive Director) as panelists.
They discussed their great culture of respect in JPMorgan Chase and shared in-depth how the company is looking at the improvements in the technology landscape. They also showcased how to navigate the company and all the business transformation aspects, its culture of diversity and inclusion, and its importance for JPMorgan Chase. 
Attendees got a good sense of what it's like to work at JPMorgan Chase in the hands of its leaders and employees. On the other hand, attendees were also able to look at the hiring opportunities at JPMorgan Chase, which currently has over 4.000 jobs available in the cloud and data management field. Still, also it served as great insight for aspirants to get to know what the company is looking for as their ideal candidate for these positions.
Cloud Solution Showcase: amazing innovation by women-led companies.
We were so excited to present two women-led companies that created solutions that can be implemented in organizations such as JPMorgan Chase. 
First, we presented Geetha Ramaswamy, CEO of Traice. She created an AI-enabled early warning risk detection and monitoring of businesses like JP Morgan Chase to make key decisions such as underwriting, investing, an extension of the line of credit, among others. Her solution allows companies to detect financial risks even six months in advance.
Second, we presented Bhavya Agarwal, CEO of ZipBoard. She's also an entrepreneur and cloud founder who created ZipBoard, a digital content review platform helping improve the content feedback process on websites, courses, videos, and documents by making it visual and easy.
Networking and job opportunities at the Roundtables
Last but not least, attendees had the chance to meet, interact, and connect with other attendees, speakers, and advisors in the networking lounge. Additionally, it was a great way to explore becoming a technology leader or a digital officer and a unique opportunity for those looking for new jobs to meet the JP Morgan Chase leaders and those willing to learn more about the company and corporate development.
Please join us in our LinkedIn community if you want to get more updates and news about our upcoming events. Also, don't forget to visit the #WICxFortune100 Lunch and Learn Series website to get more information about it and look at our next session held on April 22 with Salesforce Ventures.
Don't forget to sign up to the Get Introduced Challenge. Designed for executives, entrepreneurs, industry leaders, subject-matter experts, community leaders, and thought leaders—basically all WIC's community! That way, you'll get access to an advisor, leader, or mentor to help you transform your career's trajectory.
Thanks to the WIC Solution Marketplace, your company can also grow and get new customers and business opportunities. Get your solution listed in the WIC Solution Marketplace, help your customer engage with you, access your verified listing on other marketplaces, and get leads and demo requests.
The WICxAccessPass is our signature annual membership program. It offers infinite access to an online community, warm introductions, signature events, and the opportunity to expand your network and master your executive presence and participate in creating billion-dollar access while having fun and adventure. Designed for individuals, it features the greatest value with the best benefits, alongside unique experiences offered in one pass.
https://womenincloud.com/wp-content/uploads/2022/02/Connect-JPMorgan-Chase-2.png
500
500
Chaitra Vedullapalli
https://www.womenincloud.com/wp-content/uploads/2021/04/logo.png
Chaitra Vedullapalli
2022-03-08 15:27:22
2022-03-16 02:22:55
WICxFortune100 Lunch & Learn Series with JPMorgan Chase Recap