This annual summit left us all with an enormous sense of gratitude and fulfillment. From January 26 – 29, we truly celebrated the power of Collective Influence. And it only was possible thanks to all the support and collaboration of our sponsors, partners, speakers, volunteers, and of course, our community.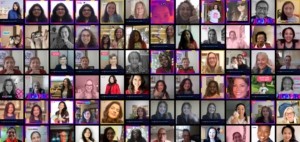 As well as past summits, we counted on Remo's partnership to carry on the event online. It allowed people all around the world to connect, participate and share with others.
The 4th Annual Summit: Spectacular highlights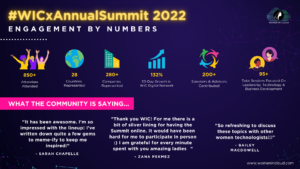 This past Summit exceeded our expectations, and we made some incredible achievements:
We had

more than 850 attendees

over the course of the four days of the event. And more than

28 countries

were represented by all of you. That truly shows the power of

Collective Influence

as a global movement.

More than 200 people

contributed to this experience to create economic access for women in technology. Thanks to our

speakers, sponsors, advisors, recruiters, & community partners

.

More than 280 companies

were represented to make the future of tech inclusive and sustainable.

T

he WIC Digital Network

grew by 132% over the last 30 days.

We counted on the participation of

more than 155 Advisor Leaders

in the Cloud Leader Circle and received more than 50 requests over 72 hours.

Pradyna Desh, CEO of Advocat.AI

was the winner of the

#CloudInnovateHEr Global Pitch Challenge

. Huge congratulations to her! You can learn more about Advocat.AI by clicking

here

.
These incredible highlights are not more than proof that year after year, more and more people are getting involved and taking action to work together towards a world when diversity and equity are granted for all women in the tech industry.
Focusing on Leadership and Professional Development
This year's programming was completely new and different to past editions. We also counted with the participation of an incredible group of speakers, all of them experts in their areas. 
The Summit was packed with a series of sessions, live and recorded, carefully designed to help them grow both, personally and professionally. Let's take a look at some of them:
Live Power Panels

: Groups of experts and leaders from the tech industry discussed and gave great insight to all attendees about remote workforce, allyship, youth in STEM, leadership, DEI, and GTM strategies such as Co-Selling. 

Keynotes

: Experts such as Pamela Maynard, Vinita Gupta, Joyce Mullen, and Michelle Green discussed leadership and company growth. Gavriella Schuster presented the #beCOME Allies for allyship.

Power Talks

: These incredible talks were packed with great inspiration about finding a new path on your professional life, including transitioning jobs, mastering the interview,  #RockYourPitch, and valuable insight about cloud jobs and cybersecurity.

Workshops and Bootcamps

: #FindYourFit, as well as the #ThoughtLeadership bootcamps were incredibly valuable and inspirational. Also, #TechProfessional bootcamp provided great insight to those embarking a new professional adventure.
What our community is saying?
I loved the content, the speakers and the networking. Single stream meant a very simple and effective way to participate in all the sessions. The Power Talks
I enjoyed the calibre of speakers, the interactive and insightful chats, the linkedIn links of speakers posted during their sessions. and the avalanche of connections i have made on Linkedin and Twitter.
One of the better online events. you didn't try to boil the ocean. things were broken down into manageable segments. running into Anne, one of the speakers, in the lounge shortly before she was scheduled to talk. it felt relaxed and surprisingly easy to chat with her.
Sessions about leadership and roundtable discussions
Events like the Annual Summit are the perfect occasion to connect with others and to network. Attendees took full advantage of the Event Hub for networking with others, as well as the Roundtables for discussing common interests. The Remo platform was also a big protagonist for networking, allowing attendees to connect, chat, and speak to each other while waiting for the next live session.
How to get involved with WIC?
What's Next at WIC? Stay Tuned!
JP Morgan Chase

– Join us to Meet JPMC Leaders & Recruiters at the next #WICxFortune100 Lunch & Learn Session on February 25. Registration Details Coming Soon!

WICxIWD 2022

– Mastering Leadership to #BreakTheBias March 31

Learn more about

events

here
Did you attend the Summit? Tell us your experience! We'd love to know how was it for you. Don't be afraid of leaving a comment, and thank you for assisting!
https://womenincloud.com/wp-content/uploads/2022/02/2022-WICxAnnualSummit-Impact-Creative-1.png
1080
1920
wicwpuser
https://www.womenincloud.com/wp-content/uploads/2021/04/logo.png
wicwpuser
2022-02-02 08:01:30
2022-02-02 21:13:29
WICxAnnualSummit 2022: Three Days of #CollectiveInfluence At Its Best