Dominate Billion-Dollar Industries: #WICxAccenture Founder Coaching Program Empowers Entrepreneurs to Succeed With Competitive Edge
Women in Cloud and Accenture have joined forces to revolutionize the way female tech founders grow and succeed in the enterprise industry. Their innovative world class coaching program, the first of its kind, has been rolled out over the last few months, and is specifically designed to help women accelerate their growth and reach new heights. 
The program pairs female founders with executives from Accenture, offering unparalleled industry-leading support over three months. With 20 founders strategically matched with Accenture coaches whose expertise aligns with their unique industry experience and business needs, this program is the ultimate tool to take your business to the next level.
Participating Accenture Mentors & Founder Companies: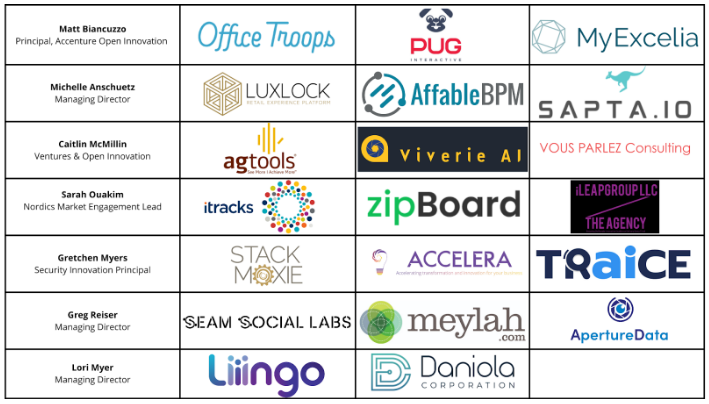 "Our time with Lori was extremely valuable. We discussed our purpose, target market, technical options and strategy, and contracting with enterprises", said participant Andrea Sorenson, CEO & Co-Founder of Liiingo. "Her insights have helped us understand our options, make key decisions, and develop a clearer strategy. Lori asked great questions, understood our challenges, and offered her insights with respect and encouragement."

Accenture mentors met with their paired founders for a total of 8 hours delivering invaluable insights focused on refining product market fit, developing industry partnerships, and finding and acquiring customers. The program also allowed Accenture to explore opportunities to adopt these emerging technologies, and provide entrepreneurs with strategic co-market and co-sell insights. 
Accenture Coaches Included: 
Matt Biancuzzo 

Michelle Anschuetz 

Rebecca Anton 

Sarah Ouakim 

Gretchen Myers

Greg Reiser

Lori Myer
"It's not everyday that we have the opportunity to mentor CEOs of emerging technology companies, and I'm grateful to have met, worked with, and learned from three awesome startup founders during the WIC/Accenture Coaching Program", said Accenture mentor Greg Reiser, Managing Director of Cloud First Networks. "Anytime someone takes your advice and then comes back to thank you for the impact you've made on their business, it's extremely rewarding." 
The world class coaching program for female tech founders marks one of many instances where Accenture and WIC have teamed up to connect emerging tech startups with Accenture leaders to accelerate industry access and opportunities. Recently, Accenture has pursued mentorship programs with two WIC accelerator startups, and has served as speakers panelists at various WIC events. Accenture was also an integral part of WIC's CXO Series, a networking experience designed to open the doors for leading fortune companies and brands to connect with technology business builders.
The flagship program's success has opened doors for Women in Cloud to collaborate with other partners, offering even more mentoring opportunities to female tech founders. Exciting plans for the 2023 WIC founder coaching programming are in the works, so stay tuned for more updates!
Apply to WIC founder application to get access to a World Class Coaching Program with Insight, Accenture, Google, Avanade and more!
Learn More about Women in Cloud's partnership with Accenture. 
https://www.womenincloud.com/wp-content/uploads/2021/04/logo.png
0
0
Caroline Berrios
https://www.womenincloud.com/wp-content/uploads/2021/04/logo.png
Caroline Berrios
2023-02-21 20:57:50
2023-02-21 20:57:50
WIC Founder Coaching Program With Accenture Delivers Valuable Insight to Entrepreneurs