Last month, Women in Cloud, in partnership with Insight Enterprises, announced the winners of the third annual #empowHERaccess Awards, which honor and uplift extraordinary women and ally tech leaders and entrepreneurs illuminating the path toward equitable economic access. 
Now in its third year, the #empowerHERaccess Awards received a record number of nominations – 195 nominations ranging across 9 categories. 
Aimed to serve as a powerful reminder of the transformative power of championing representation in creating equal access and opportunity, Jen Vasin, Chief Human Resources Officer at Insight shared, "At Insight, we are committed to bolstering the success of women in technology through career recruitment, professional development and mentorship. We are excited to partner with Women in Cloud to recognize and celebrate the achievements of women leaders, entrepreneurs and allies who share our mission to promote responsible, equitable practices in the technology industry through the 2023 #empowHERaccess Awards."
Women in Cloud and Insight Enterprises revealed the following list of Award Winners, praising each recipient as trailblazers creating a brighter, more inclusive technological landscape for future generations.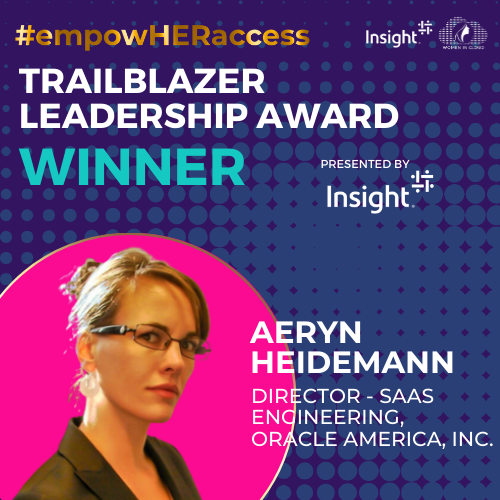 Trailblazer Leadership Award: Aeryn Heidemann,  Director – SaaS Engineering / Oracle America, Inc. Presented by Insight.
Introducing Aeryn Heidemann, a dynamic Director of SaaS Engineering at Oracle, known for her exceptional leadership and dedication to fostering diversity, equity, and inclusion within the tech industry. With a track record of transformative initiatives and a passion for empowering women, Aeryn has left an indelible mark on Oracle's SaaS Engineering Women's Leadership Community (WLC).
 As the co-chair of the Oracle SaaS Engineering WLC, Aeryn has taken the reins to accelerate efforts in Diversity, Equity, and Inclusion (DEI). Her visionary leadership has turned the WLC from a modest group into a powerhouse organization, making significant strides in driving gender equality and professional growth. Aeryn's achievements in this role are nothing short of remarkable.
 Under her stewardship, the WLC has undergone a profound transformation, evolving from a small group to a thriving community of 227 members, including male allies who recognize the importance of fostering an inclusive environment. Aeryn's strategic vision has breathed new life into the WLC, creating impactful initiatives across four key pillars: engaging speaker series, empowering community events, innovative internal programs, and strategic external partnerships.
Aeryn's commitment to mentorship and personal branding has been evident through programs like the headshot helpers initiative, which equips members with polished professional headshots to enhance their personal brand. She has curated engaging events such as "Build a Life With Love," centered around self-care, and introduced "The WLC Presents Rest & Wellness Day Yoga," an organization-wide yoga session to promote well-being.
Aeryn's impact extends beyond Oracle's walls through her collaboration with Gender Equality in Technology (GET)Cities, a non-profit organization founded by Melinda French Gates. Her strategic partnership has elevated Oracle's presence within the GETCities Champions Program, reinforcing the company's commitment to diversity and inclusion at an industry level.
One of Aeryn's standout accomplishments has been her innovative internal programs. "SaaS Stories" provides a platform for the women of SaaS Engineering to share their triumphs, fostering a supportive community. "WLC All Hands Highlights" celebrates female leaders within Oracle during dedicated team meetings, showcasing their accomplishments and contributions.
Aeryn's dedication to amplifying women's voices is further demonstrated by her upcoming Women's Leadership Summit, featuring leaders from prominent tech companies. This summit promises candid discussions on the current state of women in the technology sector, embodying Aeryn's commitment to driving impactful change.
Aeryn Heidemann's leadership within Oracle's SaaS Engineering Women's Leadership Community is a testament to her passion for fostering inclusion, her strategic acumen, and her ability to mobilize diverse voices towards a common goal. Her vision and dedication are inspiring not only within Oracle but across the broader technology landscape, making her a true trailblazer in the pursuit of diversity and gender equality.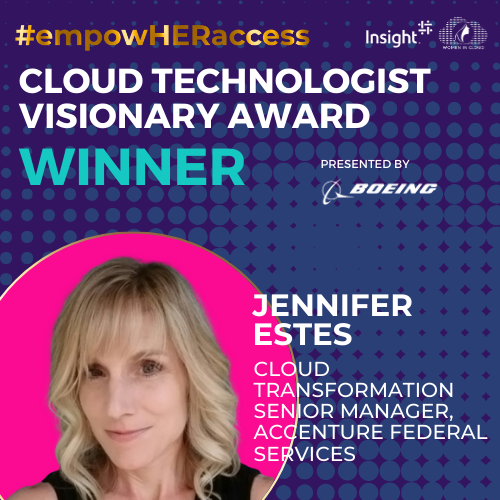 Cloud Technologist Visionary Award: Jennifer Estes, Cloud Transformation Senior Manager – Accenture Federal Services. Presented by Boeing.
Meet Jennifer Estes, a dedicated Cloud Transformation Senior Manager at Accenture Federal Services. With a passion for leading technical teams, she spearheads the delivery of intricate technology solutions that empower the Federal Government to enhance its services for U.S. citizens. Jennifer's expertise extends across a diverse range of programming languages and technologies, showcasing her versatility and depth of knowledge. Impressively, she has even mastered languages like C and COBOL, demonstrating her commitment to staying ahead in the ever-evolving tech landscape.
Jennifer's primary focus lies in Cloud services, Infrastructure, Security, and Infrastructure Operations. Her robust background in these areas enables her to orchestrate the seamless integration of cutting-edge technologies into government operations, resulting in enhanced efficiency and effectiveness. Her role involves guiding her teams through complex challenges, leveraging her strategic thinking and problem-solving prowess to ensure successful outcomes.
Jennifer's educational journey has been marked by excellence and achievement. She earned her Master of Science in Information and Computer Science from The Ohio State University, which equipped her with advanced knowledge in the field. Additionally, she holds a Bachelor of Science in Computer Science and Applied Mathematics from Ohio University, showcasing her dedication to continuous learning and growth.
Jennifer's professional journey truly shines at Accenture Federal Services, where she plays a pivotal role in driving transformation and innovation. Her expertise in Cloud services, SAP Technical Architecture, Security Technology, and Infrastructure Operations makes her an indispensable asset to the team. With an unwavering commitment to her craft and a genuine enthusiasm for pushing the boundaries of what technology can achieve, Jennifer Estes stands as a beacon of excellence in the realm of Cloud transformation and government service enhancement.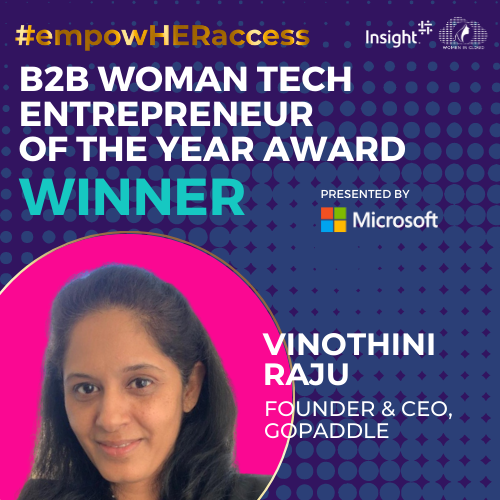 B2B Woman Tech Entrepreneur of the Year: Vinothini Raju,  Founder & CEO – gopaddle. Presented by Microsoft.
Women in Cloud is also proud to acknowledge Vinothini Raju, an inspiring and tenacious entrepreneur who stands at the helm of her own success story. As the Founder and CEO of gopaddle, Vinothini has not only shattered glass ceilings but has also become a trailblazer in the complex world of enterprise technology and cloud solutions.
Hailing from India, Vinothini's journey has been marked by unwavering determination and a vision to create something remarkable. With 90% ownership of her company, she embarked on her entrepreneurial journey with a clear goal in mind – to build a successful and profitable consulting business. From its inception, her company has thrived, evolving into a powerhouse of talent with a dedicated team of 20 engineers spread across the United States and India. 
Under her leadership, gopaddle has provided its expertise to industry giants like Dell Software, Swiggy, Zoomcar, Tesco, Lowes, Boomerang Commerce, and many more.
In 2019, Vinothini took a bold step by pivoting her business toward a new direction – the low-code Enterprise SaaS platform. Navigating the complex landscapes of Docker and Kubernetes, she set out to shape the future of platform engineering. Her vision revolves around a self-service, low-code platform that seamlessly bridges the gap between edge and cloud technologies. Vinothini's impact extends beyond her business endeavors. She has been an active contributor to the tech community, sharing her expertise and innovation. Her contribution of a lightweight Multi-access Edge Cloud blueprint to the CNCF LFEdge Community showcases her commitment to collaborative progress.
Her strategic partnerships with tech giants like HPE, Docker, and Canonical demonstrate her ability to forge strong alliances in an evolving industry. Her platform's presence in various cloud marketplaces has resulted in thousands of software downloads, a testament to the value her innovation brings.
Vinothini's accomplishments are a testament to her resilience and her commitment to fostering gender diversity in the tech sector. She has maintained a steadfast 40-60 rule, ensuring a significant representation of women engineers within her team. Her story serves as an inspiration to women who seek to balance their aspirations with their familial responsibilities. She exemplifies how it's possible to break barriers, challenge norms, and thrive in the face of adversity.
Vinothini's journey has been far from easy. Navigating the enterprise cloud space and securing stakeholder buy-in, especially as a woman, has posed formidable challenges. Overcoming hurdles like raising capital in an unfamiliar tech landscape, dealing with complexities, and leading through the tough times of COVID and economic downturns showcases her unyielding spirit.
Vinothini Raju's story is a beacon of resilience and ambition. Her determination to succeed against all odds, coupled with her ability to innovate and inspire, sets a remarkable example for aspiring women entrepreneurs everywhere. As a nominee for the #empowHERaccess Award, her journey is a testament to the transformative power of women's leadership and entrepreneurship.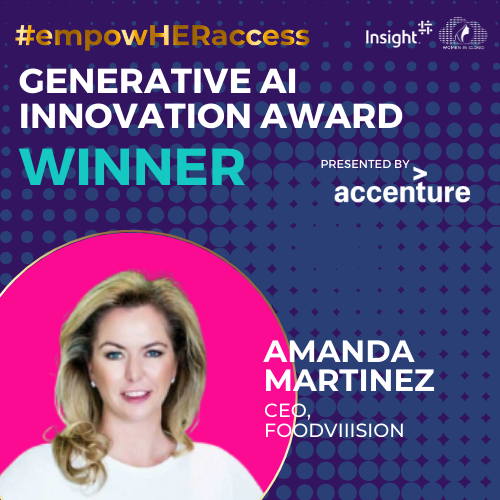 Generative AI Award: Amanda Martinez, CEO –  FoodViiision. Presented by Accenture.
Introducing Amanda Martinez, an exceptional visionary at the forefront of technological innovation and sustainability. As the CEO of FoodViiision and the visionary force behind ClimateChain, Amanda is revolutionizing enterprise applications by seamlessly integrating cutting-edge technologies.
Amanda's journey as a trailblazer is characterized by her ability to merge quantum-encrypted enterprise-capacity blockchain with neomorphic and generative AI. This remarkable fusion is reshaping the landscape of public companies' capabilities. With a focus on Environmental, Social, and Governance (ESG) accountability, Amanda's work is empowering companies to substantiate their claims, uncover malfeasance, achieve optimization goals, and foster a newfound level of trust and transparency with their consumers.
Her dedication to addressing truth and verifiability is evident in her groundbreaking approach to handling vast and intricate datasets. Amanda's unique expertise lies in deciphering complex information, bringing coherence to immense volumes of data, and extracting meaningful insights that drive positive change. This transformative process is enabling organizations to make informed decisions and forge an unbreakable link between their actions and their impact on the environment and society.
  As the CEO of FoodViiision, Amanda is driving a paradigm shift in the food industry. Her visionary leadership is fostering a new era of sustainability, where companies are held accountable for their environmental responsibilities. Through her work with ClimateChain, Amanda is unlocking the potential of technology to reshape the way businesses operate, creating a world where trust is rebuilt through tangible actions and results.
Amanda's commitment to innovation and her unrelenting pursuit of a better future have positioned her as a trailblazer in the fields of technology and sustainability. Her ability to navigate the intersection of blockchain, AI, and environmental consciousness sets her apart as a visionary leader with the power to shape industries, reimagine business models, and inspire positive change on a global scale.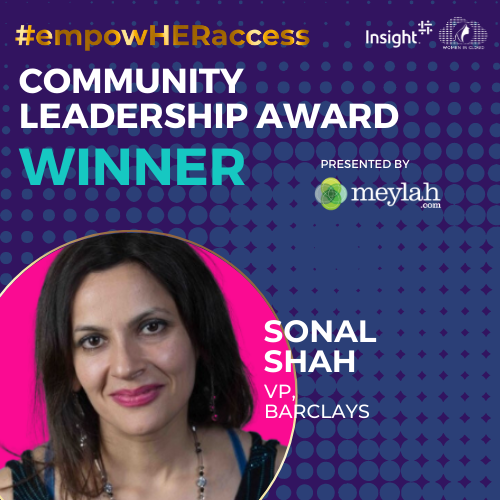 Community Leadership Award: Sonal Shah, VP – Barclays. Presented by Meylah.
Honing the meaning of community leadership is Sonal Shah, a dedicated and inspiring Vice President at Barclays Bank, who is making remarkable strides in promoting diversity and advocating for the future of technology. With a passionate commitment to encouraging the next generation and fostering diversity within the tech industry, Sonal is a true champion of change and progress.
As a two-time winner of the prestigious Tech100 Rising Stars award and a Rising Stars Award winner in Diversity from We are The City, sponsored by The Times newspaper, Sonal's dedication to her work outside her day job is nothing short of remarkable. She stands out for her active involvement in empowering women, especially in the tech sector.
Sonal's influence extends beyond her role at Barclays. She has been a prominent voice in the tech community, speaking at major women in tech conferences, sharing her insights on topics like blockchain. Her blogs, mentorship initiatives, and events have played a crucial role in creating awareness and fostering learning opportunities. She has tirelessly worked to inspire individuals from underprivileged backgrounds, particularly women of color, to pursue better opportunities.
Sonal's insights have even found a platform in Forbes magazine, where she emphasized the critical role that diversifying the tech industry plays in its growth and development. She has illuminated how the unique perspectives that women bring to the field can lead to unprecedented advancements.
Within Barclays, Sonal's contributions are equally impactful. She is a Deputy Co-Chair of the Asian Professionals Employee Resource Group and an active committee member of Barclays Win the Gender Network and Barclays London 'Women in Tech' Employee Resource Group. Through these roles, she has organized numerous events that bridge communities, share knowledge, and inspire action.
Sonal's dedication goes beyond her professional endeavors. Her involvement with the United Nations UK as a volunteer delegate showcases her commitment to global issues like gender equality and the empowerment of women and girls through innovation and education.
Her leadership and involvement extend to a broad range of initiatives, from organizing panels and collaborative fitness events to her continuous efforts to foster community and personal development among employees. She is a shining example of how one individual can make an immense impact both within a corporate setting and in the broader tech community.
Sonal Shah's journey embodies dedication, innovation, and a tireless commitment to inclusivity. Her tireless efforts to encourage diversity, elevate the tech industry, and inspire future generations make her a beacon of positive change and a true role model for aspiring professionals worldwide.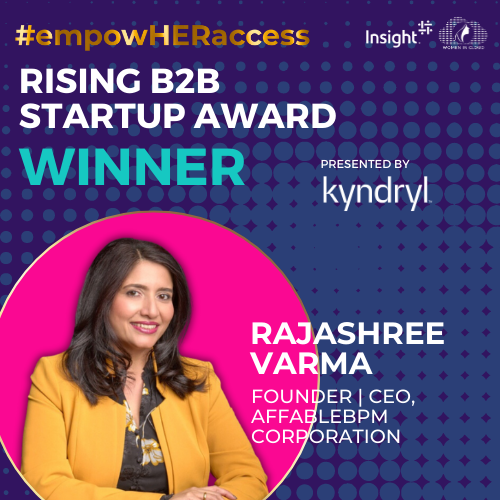 Rising B2B Startup of the Year: Rajashree Varma,  Founder & CEO, AffableBPM Corporation. Presented by Kyndryl.
Introducing Rajashree Varma, an exceptional tech entrepreneur and a driving force behind the success of AffableBPM Corporation. As the Founder, COO, and CFO of AffableBPM, Rajashree has harnessed her extensive experience in technology, entrepreneurship, operational efficiency, and healthcare to create a transformative SaaS startup.
Teaming up with co-founder Linda Roberson, Rajashree embarked on a journey to reshape the landscape of business process management. Her role as CEO of AffableBPM showcases her visionary leadership, compassionate approach, and the ability to foster strong relationships, all of which have been instrumental in propelling the company into a thriving SaaS startup.
Rajashree's dedication and achievements within the tech entrepreneurship sphere have not gone unnoticed. Her remarkable accomplishments include the WBE Star 2020 Award by WBENC, the Trailblazer award from CloudGirls at the Channel Partner event, and the prestigious title of WICxTop 100 Founder by Women In Cloud. These accolades serve as a testament to her unwavering commitment to team growth and industry advancement.
Under Rajashree's guidance, AffableBPM is driving transformation in healthcare, non-profit, and education sectors through its robust SaaS solution. The platform stands as a testament to her commitment to operational efficiency and digital transformation, automating manual processes within back offices and enhancing overall efficiency. This innovation not only reduces compliance risks but also empowers data unification, facilitating informed decision-making. The company's client roster includes prominent healthcare institutions such as Sarasota Memorial Health, Baptist Health, UF Health, ECU Health, and Florida State College Jacksonville. 
Rajashree's forward-looking vision for AffableBPM encompasses the integration of AI and ML-driven technologies, further positioning the company at the forefront of business process management revolution. Her expertise in scaling sales through key partnerships, including with Microsoft, underscores her strategic prowess. 
Notably, Rajashree has been instrumental in securing substantial funding of $1.5 million, strategically invested in the growth of AffableBPM. Her ambition reaches new heights, with a goal to achieve a high-value acquisition in the three-digit million-dollar range, ensuring significant returns for the company's shareholders. 
Rajashree Varma's journey is a testament to her entrepreneurial spirit, technological expertise, and outstanding leadership capabilities. Her dedication to pushing boundaries and redefining norms within the tech industry makes her a compelling nominee for the Rising B2B Startup Award. This nomination recognizes her transformative impact and her unwavering commitment to driving innovation, efficiency, and success within the SaaS startup ecosystem.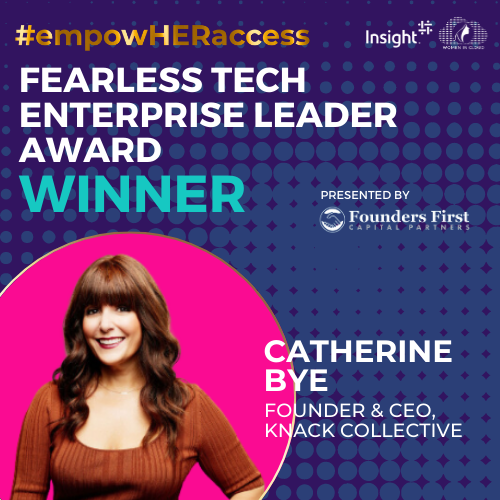 Fearless Tech Enterprise Leader of the Year: Catherine Bye, Founder & CEO Knack Collective. Presented by Founders First Capital Partners. We're proud to recognize Catherine Bye, a visionary force in the B2B marketing arena and the dynamic Founder and CEO of Knack Collective. With her innovative approach, steadfast commitment to diversity, and exceptional leadership, Catherine has redefined the landscape of B2B marketing, making her a compelling winner for the B2B Women Tech Entrepreneur of the Year Award. 
As the driving force behind Knack Collective, Catherine has harnessed her deep industry insights and trailblazing spirit to create a transformative B2B marketing agency. Established in 2018, Knack Collective has quickly risen to prominence by helping cloud technology companies reshape their partner marketing programs, driving partner engagement and profitability on a global scale.
Catherine's founding vision for Knack Collective was inspired by a mission to infuse greater equity and humanity into B2B marketing. Recognizing the power of diversity and inclusion, she wagered that these elements could serve as catalysts for exceptional business growth. With these guiding principles, Knack Collective swiftly gained momentum and acclaim, rapidly becoming a sought-after agency. Within a year, the agency achieved a remarkable $3.4 million revenue milestone, a testament to its transformative impact and Catherine's visionary leadership.
Beyond business success, Catherine's journey is marked by her unwavering commitment to challenging industry norms. In a landscape often dominated by privileged white males, she bravely founded Knack Collective as an antidote to lack of inclusivity, flexibility, and individuality. This courageous step has helped break outdated business norms and contribute to a more equitable industry. Today, as one of the rare 1.0% of creative agencies founded by women in the US, Catherine is a trailblazer driving change on multiple fronts.  One of Knack Collective's standout strengths lies in its innovative approach to partner channel marketing. Under Catherine's guidance, the agency has leveraged cutting-edge marketing technologies, streamlined processes, and a team of cloud experts to architect scalable partner channel marketing programs. With a client roster including industry giants like Microsoft, AWS, and Adobe, Knack Collective's programs have not only driven substantial revenue growth but also demonstrated an average ROI of 18x, showcasing their ability to deliver remarkable results. Catherine's dedication to diversity and inclusivity is a cornerstone of Knack Collective's success. She has nurtured a team that champions individuality, embraces diverse ideas, and celebrates a range of identities. This approach, known as Representative Marketing, has empowered Knack Collective to connect deeply with customers, delivering messages that resonate across genders and ethnicities. The PUMA #Reform campaign exemplifies this approach, showcasing their ability to craft solutions that authentically resonate with audiences. Catherine Bye's journey is a testament to her pioneering spirit and transformative leadership. Her dedication to innovation, inclusivity, and breaking industry norms makes her a standout nominee for the B2B Women Tech Entrepreneur of the Year Award. Her visionary impact on B2B marketing demonstrates the potential of diversity, innovation, and inclusivity to drive unparalleled success and transform industries.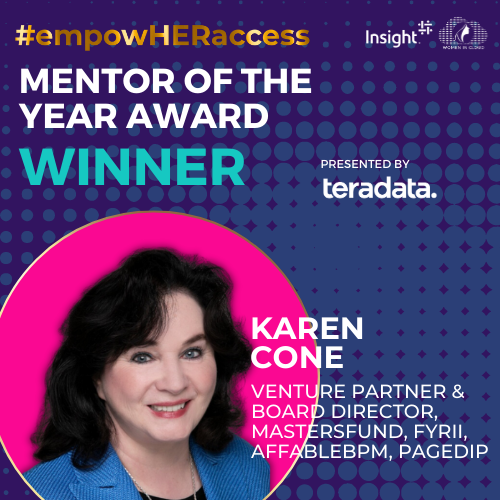 Mentor of the Year: Karen Cone, Venture Partner & Board Director – Mastersfund, Fyrii, AffableBPM, Pagedip. Presented by Teradata
A long time friend and ally of Women in Cloud,  Karen Cone, a visionary leader with a remarkable track record of execution, innovation, and advocacy. With over four decades of experience as a CEO, senior executive, and board director in the technology sector, Karen Cone has not only translated innovation into reality but also dedicated her career to promoting equitable economic access and mentoring women in launching their businesses and careers.
After an illustrious career in the corporate world, Karen shifted her focus to championing women-led companies and individuals through mentorship and advisory roles. As a venture partner with the Mastersfund, Karen plays a pivotal role in funding and guiding women-led companies at the seed level. Her contributions extend beyond financial evaluation, as she engages directly with founders, leveraging her wealth of experience to help shape their companies for success. Her mentorship extends to navigating challenges associated with accessing venture capital, particularly in an industry where women-owned companies often struggle to secure funding.
Karen's impact is amplified as a board director for three companies: Fyrii, AffableBPM, and Pagedip. She goes beyond her board duties, providing hands-on mentorship to women founders and CEOs. Through this personalized approach, she imparts global business acumen and cross-cultural intelligence, drawing from her extensive international experience working in various regions around the world.
Committed to scalable mentorship, Karen is an active member of the Women In Cloud Advisory Board. She lends her expertise by leading roundtables at WIC Summits, participating in events, mentoring WIC Accelerator participants, and spearheading the #empowerHERfamily Digital Skilling & Opportunities Task Force.
Karen's dedication extends to fostering inclusive governance practices. She moderates the Athena Peer Group on Board Nominating/Governance Committees, further amplifying her commitment to diversity in leadership.
In addition to her hands-on mentorship, Karen shares her invaluable insights through her writings. Her articles, featured in various esteemed publications, offer lessons learned from her career journey and experiences as a working mother. She addresses topics ranging from executive presence and smart risk-taking to navigating the delicate balance between career and personal life.
Karen Cone's journey is a testament to her visionary leadership, unwavering commitment to diversity and inclusion, and the transformative power of mentorship. Her extensive experience, global perspective, and hands-on approach make her an inspirational figure in the tech industry and beyond. Her nomination for recognition reflects the positive impact she continues to have on women's advancement and equitable economic access.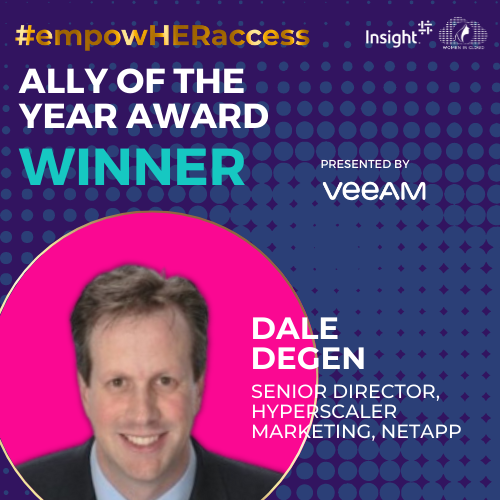 Ally of the Year: Dale Degen, Senior Director – Hyperscaler Marketing, Netapp. Presented by Veeam.
Meet Dale Degen, a remarkable Senior Director of Hyperscaler Marketing at NetApp, whose exceptional leadership and unwavering support have made a profound impact on his team and the workplace culture. Dale's dedication to fostering an environment of empowerment, vulnerability, and professional growth sets an exemplary standard for allyship and leadership within the industry.
Leading a team of marketers, with a focus on empowering women, Dale's leadership style is marked by his remarkable support and dedication to creating an environment where his team members can flourish. His team members attest to the fact that under his guidance, they feel safe to be vulnerable, share concerns, and seek advice without fearing corporate backlash. This environment of trust and open communication speaks volumes about Dale's commitment to creating a supportive and inclusive workplace.
Dale's leadership truly shines through his actions during challenging times. When faced with layoffs in the industry, Dale went above and beyond to support his team members who were impacted. He worked closely with each individual to help them find new opportunities, showcasing his genuine concern for their well-being and professional growth.
One particular example illustrates Dale's exceptional commitment to his team's development. In the midst of a busy schedule, he expressed concern for an individual who was still seeking a new opportunity after the layoffs. This selfless dedication to his team's success, even during demanding times, underscores his outstanding leadership.
Dale's impact on his team's career development and growth extends beyond the everyday. He consistently goes the extra mile to ensure that his team members are set up for advancement and success. During an offsite planning session, he conducted specialized sessions to shape his team's careers. He organized a career planning session for interns to provide guidance as they embarked on their professional journey. Furthermore, he conducted a session for his direct reports, helping them realign their job titles to accurately reflect their roles and responsibilities. His strategic approach to ensuring proper recognition and setting his team up for promotion reflects a deep commitment to their professional advancement. 
Dale's actions exemplify allyship in action, transforming workplace culture and contributing to meaningful change. His dedication to creating an environment of trust, growth, and support demonstrates the transformative power of leadership. Dale Degen's commitment to his team's success and well-being, especially during challenging times, showcases his exceptional character and leadership qualities that deserve recognition and appreciation.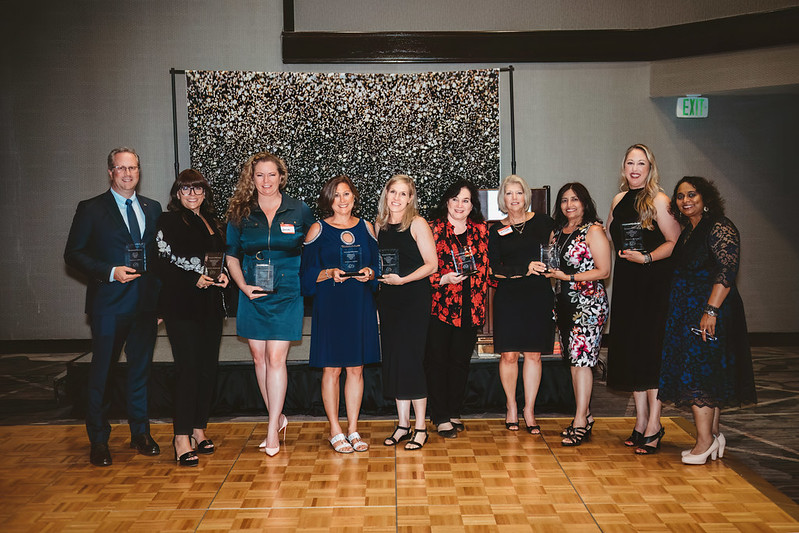 "The empowHERaccess awards are more than just accolades – they represent a pivotal moment for women in tech," affirms Chaitra Vedullapalli, President of Women in Cloud.  "The empowHERaccess awards shine a brilliant spotlight on the remarkable women tech founders and leaders who are reshaping the industry. It is an unparalleled opportunity for them to acknowledge the trailblazers, mentors, and advocates who have fought tirelessly to create pathways of access and opportunity. As we gather to celebrate these accomplishments, we also recognize the phenomenal collective impact of Women in Cloud's partners and community. Together, we are forging a future where economic access for women tech entrepreneurs and leaders becomes the new standard."
Winners were announced at the #WICxICONS awards ceremony on July 20, 2023. The #empowHERaccess Awards will return in for the fourth year in 2024, with nominations set to open in the Spring. 
To learn more about the #empowHERaccess awards and the 2023 winners, please visit: https://womenincloud.com/empowheraccess-awards2023/
https://www.womenincloud.com/wp-content/uploads/2021/04/logo.png
0
0
wicwpuser
https://www.womenincloud.com/wp-content/uploads/2021/04/logo.png
wicwpuser
2023-08-10 08:13:12
2023-08-10 08:13:12
9 Inspiring Women In Cloud Stories You Must Read: #empowHERaccess 2023 Award Winners