Women in Cloud Microsoft Cloud Accelerator is back! The Women in Cloud team is immensely happy to announce Cohort 3.0 after two successful cohorts which have expanded knowledge, access and inclusivity of entrepreneurs, while adding dollars to the economic system in the technology sector.
Since initiation Women in Cloud's mission has been to create Access for Acceleration to promote Action. Women In Cloud Microsoft Cloud Accelerator is designed as an immersive 6 month program to assist women-led tech companies to co-build, co-market and co-sell with Microsoft and their distribution channels. This program is expertly designed to help women entrepreneurs win enterprise opportunities, get access to Azure credits, an advisor community, and a global stage to showcase your business.
The 3.0 Cohort Immersive Kickoff session was on 26 March, 2020. The first session featured curated speakers, Chaitra Vedullapalli, Co-Founder and President of WiC; Karen Fassio, Marketing Director of Microsoft OCP and Co-Founder of WiC; Wendy Garcia, Chief Diversity Officer of New York City Comptroller Office; Shari Burk, Founder & CEO of Vision Platform; and Patti Dobrowolski, CEO & Creative Activator of Up Your Creative Genius. The speakers consisted of founders, industry leaders and previous cohort entrepreneurs who set the tone for the new class about the current industry landscape, how to vision their cloud businesses, along with deliverables and takeaways by the end of 6 months.
The cohort 3.0 is different from the previous editions for a number of reasons. Apart from being more structured with the use of the #WiCDigitalNetwork as a home base for the lessons, this cohort program empowers entrepreneurs to more effectively connect as a community and access necessary resources to ultimately grow their business. COVID-19 has had a direct impact on our accelerator program and the way we conduct the program itself, but the pandemic has not stopped us. We have creatively found our way around it using effective digital tools to achieve more efficiency.
Our scheduled in-person kick-off session was conducted digitally this year. The several meetings that were conducted in-person previously are now completely digital. Going digital has let us expand our horizon and open this program to people from around the world rather than just a region. The Digital Cloud Accelerator online course launch is on the agenda next. There is a positive shift in the attitude of entrepreneurs to continue learning, working towards growing their companies and bettering themselves in this time of uncertainty.

This year's WiC Microsoft Cloud Accelerator is more than just an effort to make economic contributions to the system by empowering entrepreneurs. It is about embracing the new normal and moving forward with a sense of community. It is about adopting self-empowerment and finding comfort in knowing where to turn for support with a community at your side. Most importantly, it is about collective growth and learning.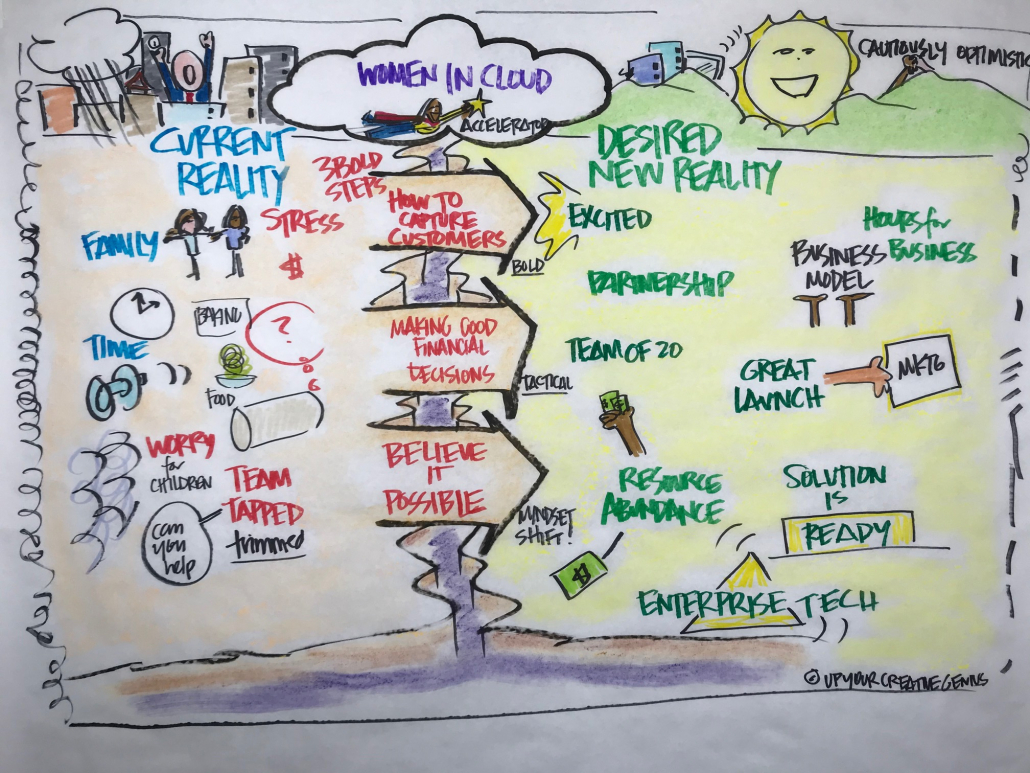 The cohort 3.0 will continue with various digital lessons, live speaker interviews, weekly digital office hours, and monthly team working sessions with everybody involved. The syllabus is shaped in a way to make it easier for entrepreneurs to seek answers and find success individually. Until we are safe to meet our leaders and entrepreneurs in person to celebrate the progress we will have made, we are all committed to taking part in this journey together.
Thank you for such a wonderful kickoff. Your flexibility and commitment to launch the program during this testing time is greatly appreciated. We as the COVID Cohort will become the force for change by building solutions not crippled by this chaos. Look forward to this journey with this great group.
"Thank you for such a wonderful kickoff. Your flexibility and commitment to launch the program during this testing time is greatly appreciated. We as the COVID Cohort will become the force for change by building solutions not crippled by this chaos. Look forward to this journey with this great group." – Gowri Selka, Volantsys
"Yah great session ! Thank you ! Especially the "customer value prop #madlib exercise" ..
I've encountered a lot of enterprise sales folks at could use that exercise – for all parties benefits – before they approach a customer ! #goodone" – Ellen Feaheny, Appfusion
Presenting the Women in Cloud Microsoft Cloud Accelerator Cohort 3.0:
SciMarONE – Donna Conroy
Rainbow Password – Nehal Mehta
illuxi – Genevieve Desautels
Resume Free Inc. – Allie Knull 
Agtools Inc – Martha Montoya
ELYON International, Inc. – Carmen Nazario 
Intect, Inc – Lisa Jain
X0PA Ai Pte Ltd – Nina Alag Suri
Volantsys Analytics – Gowri Selka 
Appfusions – Ellen Feaheny
Stimulus, Inc. – Tiffanie Stanard 
ApertureData – Vishakha Gupta
https://womenincloud.com/wp-content/uploads/2020/03/1200x500-MN-Cloud-Accelerator-Graphics.png
500
1200
Chaitra Vedullapalli
https://www.womenincloud.com/wp-content/uploads/2021/04/logo.png
Chaitra Vedullapalli
2020-03-31 00:35:14
2020-04-06 18:55:37
Announcing the 3.0 Cohort of the WiC Microsoft Cloud Accelerator