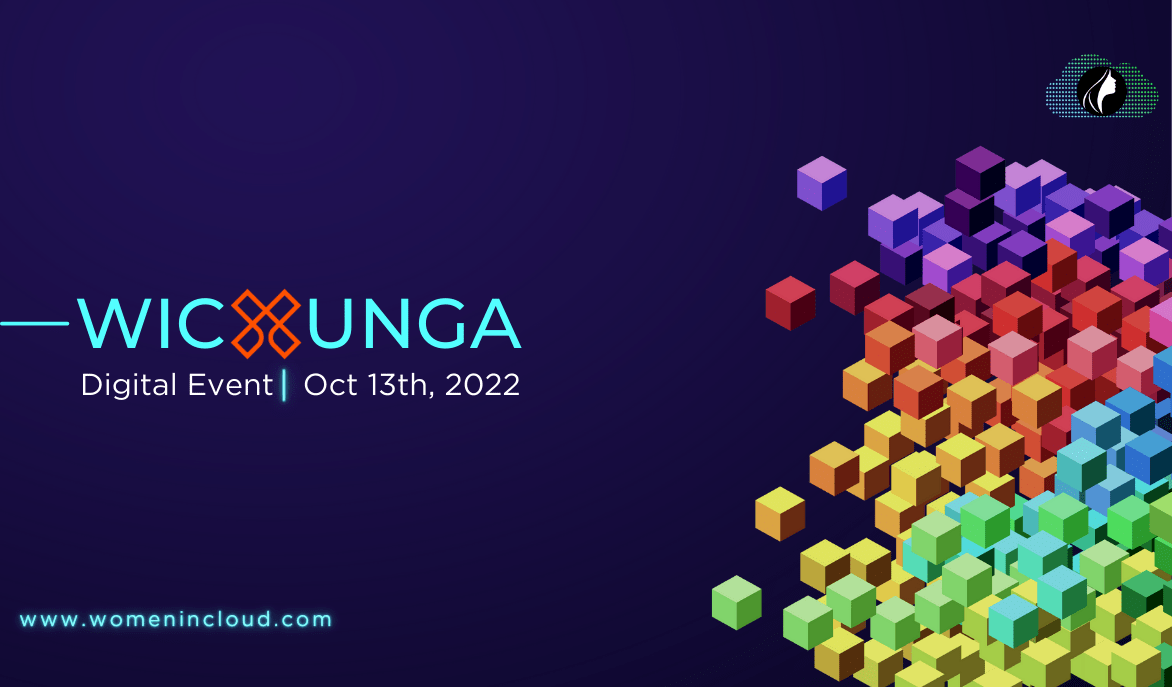 #WICxUNGA
Accelerating the 2030 UN Sustainable Development Goals through digital transformation, economic opportunity, global inclusivity and leadership development.
Learn More
See 2021 Highlights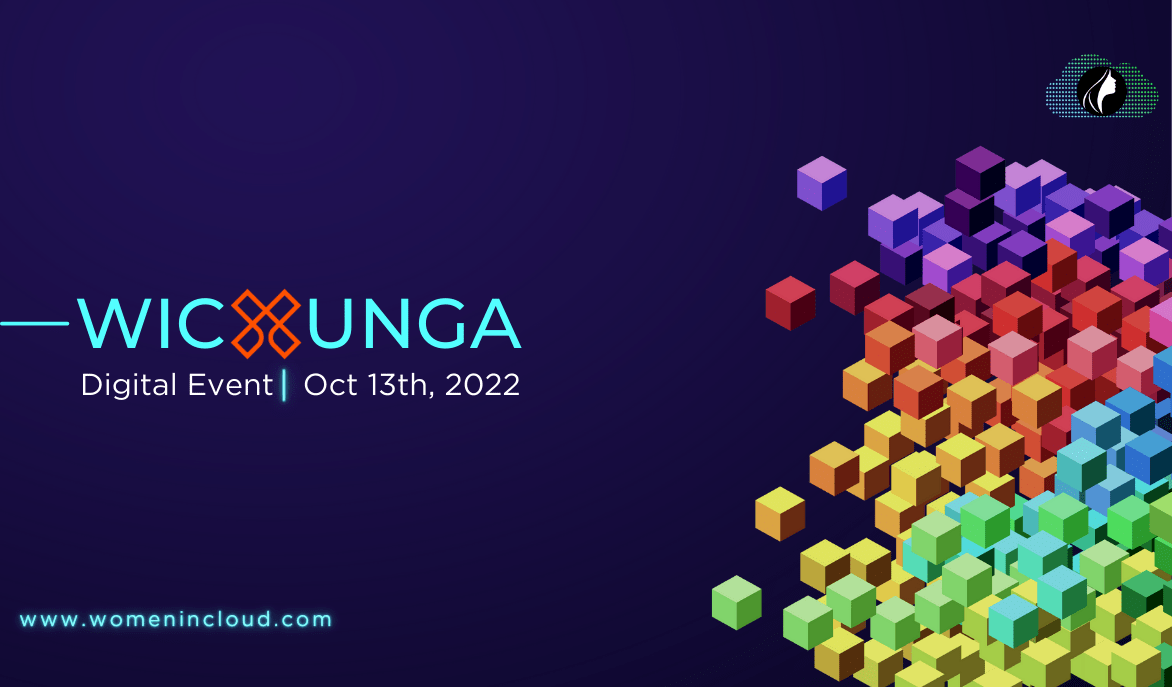 Accelerating the 2030 UN Sustainable Development Goals through digital transformation, economic opportunity, global inclusivity and leadership development.
Revolutions cannot thrive without our industry being reshaped by those that are at the core of its future. At Women in Cloud, we have learned the power of collective access and action to ignite stronger leadership and economic opportunities for women in technology, through the 2030 UN Sustainable Development Goals. Welcome to #WICxUNGA, where like-minded industry leaders, executives, investors, entrepreneurs and community members come together to share the new narrative that is accelerating digital transformation, economic opportunity, global inclusivity and proven leadership development for our community and beyond.
Stay tuned for 2022 Registration Details
Leadership & Professional Development
Inspirational thought leadership talks focused on leadership, cloud innovation and professional development
UN Sustainable Development Goals Thought Leadership & AI Roundtables
Hosted roundtables to share valuable inputs on specific AI-related topics and their potential ethical issues that is likely to bring forward impacts on economic equity and access for women
"Get Introduced" Warm Introductions to Industry Leaders
Designed for the community to enable to connections, networking, and access to advice to create economic opportunities
Skill Development & Diversity Hiring and Recruiting
Digital job fair offering a meet and greet experience, where women and collective community can meet with companies actively seeking and recruiting diverse talent
Hands-On Cloud Day
Providing attendees with access to a free Hands-On Lab experience to get their hands "Cloudy" and deepen their Azure and Azure AI foundational knowledge
#CloudInnovateHER Pitch Competition
Showcasing the next revolutionary innovation in tech-based enterprise solutions that address one or more of the UN Sustainable Development Goals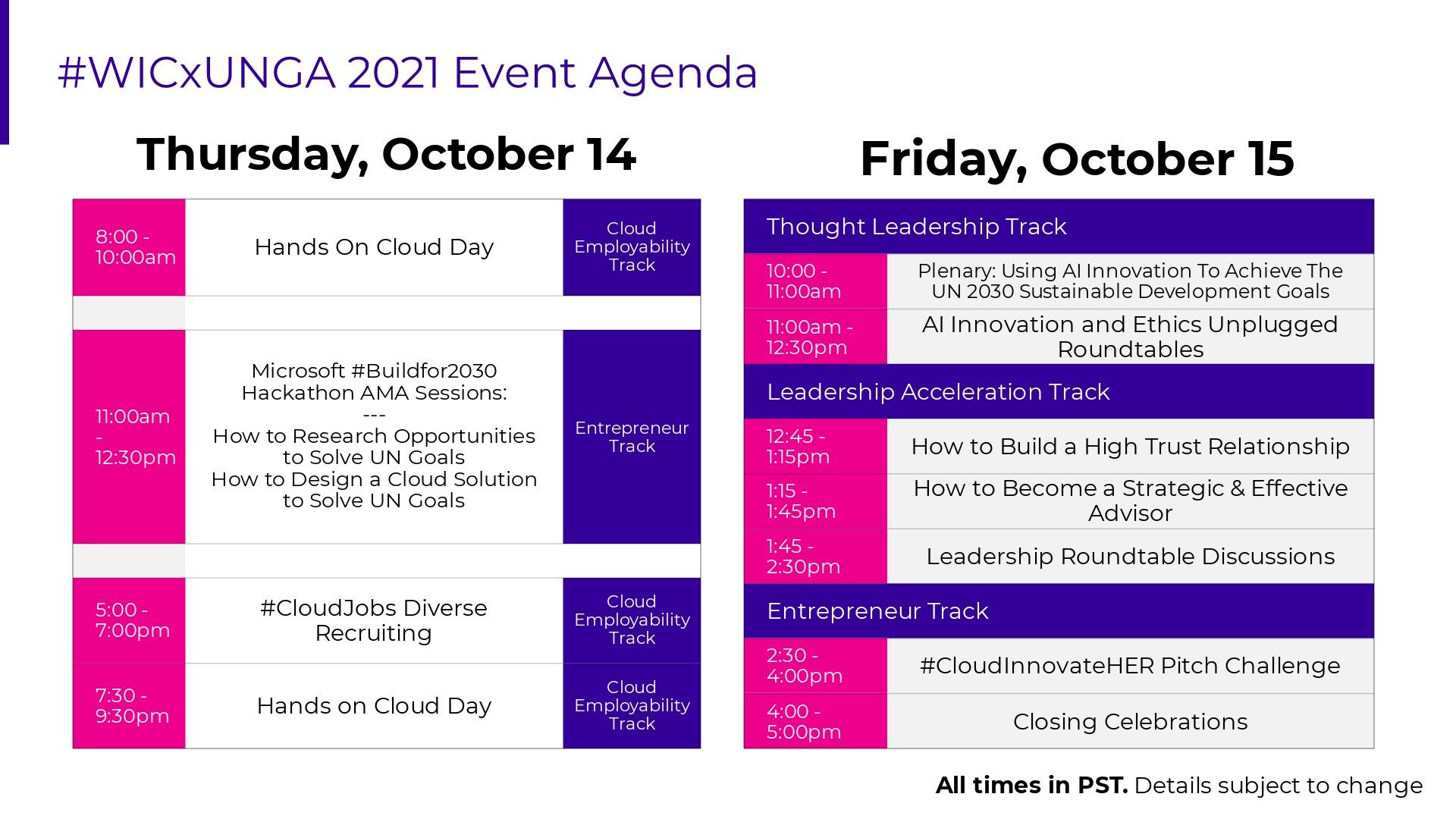 Cloud Employability Track
Hands On Cloud Day
#CloudJobs Diverse Recruiting
Leadership Acceleration Track
Strategic Leadership Workshops & PowerTalks
Roundtable Discussions & Warm Introductions to Industry Leaders
Thought Leadership Track
Plenary: AI for Good, Sustainability, and Economic Equity Connecting to UN Goals
AI Unplugged Roundtables
Entrepreneur Track
#CloudInnovateHER Pitch Challenge
SDG Solution Spotlights
2021 Participating Speakers
Stay tuned for full lineup of 2022 Speakers
Megan Maltby
Manager of Accelerator Programs and Investor Relations
Invest Ottawa
Erika Basham
Director, Sustainability Business Development
Microsoft
Sonya Shorey
Invest Ottawa
Monika Panpaliya
Managing Director, Global Enterprise Technology Services
JP Morgan Chase
Adrianna Alterman
Director, Salesforce Ventures Impact Fund
Accenture Ventures
Agnes Lan (Finalist)
Kinderdrop
Di Ye (Finalist)
Zhennovate
Elena Beloshapkova (Finalist)
inspace
Ashwini Oke (Finalist)
ASETS-LUX
Tammy McMiller (Finalist)
Plan Heal
Nancy Watt
Nancy Watt Communications
Ankita Goyal
JPMorgan Chase
Venkat Ramakrishnan
JPMorgan Chase
Saraswati Jayakumar
Accenture
Cynthia Callaway
Accenture
Kavitha Rao
HCL Technologies
Sonal Malavia
Cloud 9 Infosystems
David Pryor
Director, Organizational Partnerships
Voices for Innovation
Marisa Tricarico
Digital Strategy Senior Manager
Accenture
Fred Heller
Data Scientist
Hitachi Solutions
Monica Friday
Sr. Consultant
Insight
Kiran Chahal
Industry Leader, Healthcare & Lifesciences
Insight
Sonia V. Gupta
Applied Intelligence Solutions.ai North America lead for the Media & Entertainment industry
Accenture
Alison Norman
Solutions Executive
Insight
Meagan Gentry
Principal Software Engineer/Data Scientist
Insight
Alexis Lavine
Group Product Manager, DI Solutions
Insight
Farzi Yusufali
Co-Founder
StratumAI
Vera Burgos
Digital Marketing Manager, Microsoft AI & Innovation Marketing
JeffreyM Consulting
Patti Dobrowolski
Up Your Creative Genius
Tucker Stine
TUCKERSTINE Brand Architects
Chaitra Vedullapalli
Women in Cloud
Megan Amdahl
SVP-Partner Alliances
Insight
Christine Bongard
The WIT Network
Meriam Meghirbi
Executive Director, Data Lake and Analytics Product Management
JP Morgan Chase
Ann Anthony
Head of Data Intelligence Platform, Exec Dir
JP Morgan Chase
Keicha Myers
Sr Product Manager, Governance Controls and Catalog Platform, Vice President
JP Morgan Chase
Paul Harrold
Director of Alliances
Insight
Chaitra Vedullapalli
Women in Cloud
Olivia Bechtold
Women in Cloud & Hello Friday Marketing
Matt Jackson
VP & National General Manager, Digital Innovation
Insight
Manasa Hari
Executive Director, Head of Product – Big Data Platform
JP Morgan Chase
Priyansha Bagaria
inviz AI
Molly Grier
Accenture Cloud First Recruiting lead
Accenture
Erin Gabrielson
Marketing Director, Ecosystem Engagement
IBM
Bala Meduri
Managing Director
JP Morgan Chase
Prashanthi Paty
MD, CTO, Head of Data & AI/ML
JP Morgan Chase
Brenda Cucci
Sustainability GTM Lead
Accenture
Marissa Frey
JPMorgan Chase
Lucie Tuttle
HCL Technologies
John Dathan
SVP & GM – Insight Canada
Insight
Brooke Munier
Director of Services
Insight
2021 Event Video Highlights
Participating Fortune Companies & Sponsors
Become a Sponsor. Become an Ally
Women in Cloud, a community-led initiative, is designed to address issues ranging from financial inclusion and the gender gap to providing women with the tools, knowledge, and networks they need to reach their full potential. Our mission is to inspire, empower and accelerate the growth of women-led technology companies. We are requesting businesses to partner with us in our mission to create economic access.