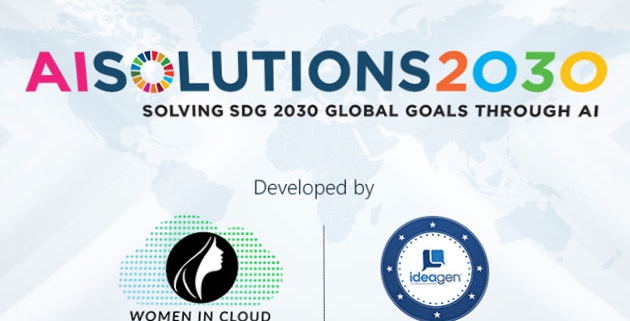 Women in Cloud (WiC) has partnered with IdeaGen to further the 2030 United Nations' global goals through the identification of AI-based solutions by launching #AISolutions2030 Solution Design Contest. In 2015, the UN adopted the 2030 Agenda for Sustainable Development proposing the 17 Sustainable Development Goals (SDGs). UN's mission is to employ technology and build a global blueprint for dignity, peace and prosperity of the planet.
Leveraging the UN Knowledge Repository, WIC and Ideagen are bringing some of the sharpest technologists and greatest business minds together to produce AI Solutions idea to contribute to UN SDGs.
After receiving 65+ applications by women-led innovators to showcase their solution, the following 10 semi-finalists have been shortlisted for the interview round;
Semi-finalists include:
The Scientific Data Engine (SDE) (led by Donna Conroy, Founder/CEO) will end and prevent global pandemics/epidemics by expediting the delivery of safe and effective scientific innovations (drugs, vaccines and diagnostics) and optimizing patient care using disease-specific, real-time clinical data powered by AI. (Goal 3: Good Health & Well-being)
VideoWiki (led by Nataliia Rzhevska, CIO, PhD in Pedagogy) is a simple tool for teachers to create teaching content without any advance knowledge of a tool or code – "Video Wikipedia for Learners and Creators" (Goal 4: Quality Education)
Share Cart (led by Madhuri Vegaraju, Software Architect) has the end goal to ensure every home has enough food to feed their family every day with dignity; because, sharing is caring.(Goal 2: Zero Hunger)
Seguro Project (led by Melissa Bush, Product Designer) is utilizing AI technologies to support domestic violence organizations in broadening their reach and depth in aiding as many women as possible to transition from domestic violence victim to survivor. (Goal 5: Gender Equality)
An Intelligent Drone-port (led by Daamini Visaalaakshi, BIE- Insouring2) is an infrastructure with Swarm of autonomous Drones and UAVs for community services with rapid response to any situation safeguarding communities. (Goal 9: Industry, Innovation, and Infrastructure)
Anonymous Interviewer (led by Erica Jackson, BI/Analytics) offers gender neutral interviews – "meet" your candidates anonymously and ask spontaneous questions in real time. (Goal 5: Gender Equality)
E-commerce which provides a marketing and raw material assistance for small scale industries world wide (led by Reshma Shetty, Manager) will provide a marketing and raw material assistance for small scale industries world wide and increase the access of small-scale industrial. (Goal 9: Industry, Innovation, and Infrastructure)
Kids Household Chores (led by Kruthika M Kanavi, Programmer Analyst) is a gaming app which aims at children learning as well as imbibing a new norm in the daily routine which is free of any gender stereotypes. (Goal 5: Gender Equality)
Smart Detection of Road Hazards using AI for Sustainable Cities (led by Gunjan Vaishnav, EO&T – BICIPL IT ENG SYSTEMS) provides automatic detection of road hazards to save precious lives (Goal 11: Sustainable Cities & Communities)
Mobile app to reduce food waste and carbon emissions (led by Leah Kim, AUTOMATION & FABRICATION) plans to transform our cities to be sustainable using cloud/AI computing to reduce residential food waste and consequently the greenhouse gas emissions. (Goal 11: Sustainable Cities & Communities)
At the closed interview session, teams will have the opportunity to present and pitch their solution ideas to a team of esteemed interviewers from Women in Cloud, Ideagen, Microsoft, and Qumulo. Solution ideas will be evaluated based on the following criteria:
The solution uniquely solves a UN Sustainable Development Goal
The solution is original and innovative in approach to solve the selected UN Sustainable Development Goal
There is a market opportunity and revenue stream potential
Top 3 finalists will be selected on August 31 and will receive special honors such as an interview on IdeagenTV, a feature at IdeaGen's 17 Days of Sustainability (September 17 – October 9), and a special award.
#AISolutions2030 Solution Design Contest is presented in partnership with Microsoft, Ideagen, Boeing, and Meylah.
https://womenincloud.com/wp-content/uploads/2019/12/ai.jpg
421
630
Chaitra Vedullapalli
https://www.womenincloud.com/wp-content/uploads/2021/04/logo.png
Chaitra Vedullapalli
2020-08-26 23:42:34
2020-08-31 17:12:14
Innovation for Transformation: Announcing the 10 Semi-Finalists for the #AISolutions2030 Solution Design Contest