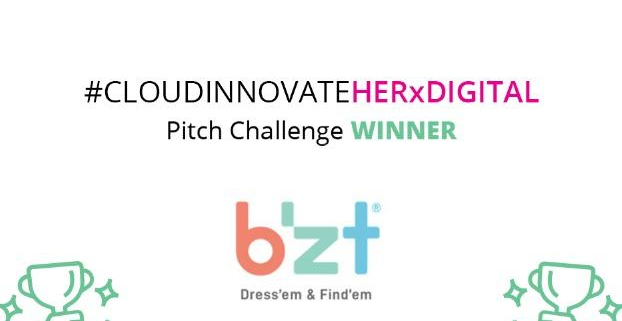 Women in Cloud, is pleased to announce B'zT as the winner for the #CloudInnovateHERxDigital Pitch Challenge. This pitch challenge was designed to showcase enterprise solutions developed by women tech entrepreneurs.

Women in Cloud is a community-led economic development initiative taking action to accelerate massive societal impact at an unprecedented pace. We are going to generate over $1B in net new global economic access for women entrepreneurs by 2030 through partnerships with corporations, community leaders, and policymakers.

About B'zT
By wearing B'zT clothing, parents and teachers can be alerted via smartphone when their children wander beyond a pre-set distance (25-30 Feet) in crowded places such as shopping malls, theme parks, large parties and picnics. It is especially beneficial for teachers who have special needs children that are prone to running away unexpectedly.

Women in Cloud's programs are designed to help female tech entrepreneurs to win enterprise opportunities, get access to cloud credits, get access to subject-matter experts & executives, a global network with the ultimate goal of creating economic growth and job opportunities that are aligned with the UN goals.

This experience was supported by industry leaders like The event is supported by Microsoft, International Association of Microsoft Channel Partners, M12 – Microsoft's Venture Fund, EQUALS Global Partnership, Founders LIVE, Verbinden, Alley, New Tech Northwest, AirMeet, Speaker Engage, Headstart Network, and Meylah, who are also core contributors to creating access to enterprise business opportunities to more female tech entrepreneurs. We received many inspiring and innovative solution nominations.  Solutions were evaluated for originality, market feasibility, and use of Cloud and AI solutions. 

Although #CloudInnovateHERxDigital Pitch Challenge has concluded, the voting People's Choice Award will remain open until 8 May, 2020. So please look at the line-up and tell us what solution you think needs to grab the spotlight.

Please join us on our other exciting campaign, #NominateAnEntrepreneur, where female technology entrepreneurs are celebrated on our network. Also, sign our Pledge by committing to create Economic Access for female technology entrepreneurs in your space. We would like to thank everybody for participating and supporting our mission. For more information about Women in Cloud and the join the Cloud Accelerator.

https://womenincloud.com/wp-content/uploads/2020/05/0-3.jpeg
520
622
Chaitra Vedullapalli
https://www.womenincloud.com/wp-content/uploads/2021/04/logo.png
Chaitra Vedullapalli
2020-05-01 21:35:55
2020-05-01 21:35:57
Drum Roll! #CloudInnovateHERxDigital Pitch Challenge Winner: B'zT