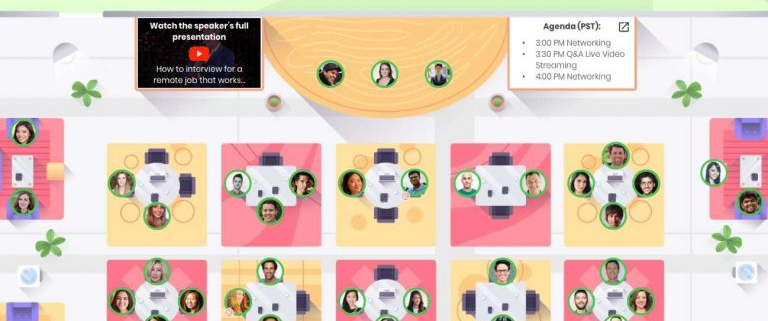 The era of virtual events is here. We are living a life in the outside world without stepping out of our pajamas or homes thanks to the internet and technology. 
Since March 2020, the world is witnessing an indefinite standstill and the internet has become our haven. According to Forbes, Virtual events are up 1,000% since Coronavirus, says a virtual events platform. 6Connex platform has seen more than 52,000 events and subevents since COVID-19. While virtual life and events are convenient, there are still some digital etiquettes one must follow.

The Women in Cloud #CloudExecConnect is right around the corner and will be the biggest virtual event we have hosted so far. #CloudExecConnect solves a specific need within the community to stimulate cross-pollination and bi-directional conversation that can make a meaningful difference in whether or not these businesses are able to succeed. The two-day event is a curated virtual experience which will let you connect with industry leaders from Microsoft and tech giants. The #CloudExecConnect consists of two different events #CloudEnterpriseConnect and #FemaleCloudFoundersBrunch.

We wanted to share a few tips and tricks with our attendees to make their experience seamless and memorable.

Stable Internet Connection – This is our number one advice, ensure you have a stable internet connection to enjoy the event without missing any bit of the event. This also helps to keep the event flow without any disruption. Another addition to this point would be ensure your hardware is ready to roll. Laptop, chargers, webcam, speakers, earphones are all within reach to help you fully commit to the event.
The Right Spot – We think it would also help to find a nice corner with no noise or disturbance at your home to enjoy any event like you would if you were attending it in person. It would also help if you would mute yourself unless required to help reduce the background noise for everybody attending. 
Know the Platform – There are hundreds of virtual event platforms, each different from the other. When attending an event it is advisable to understand how a certain platform functions, and what are its features to ensure you get the best virtual experience.
On July 20 – 21, #CloudExecConnect will take place on Remo, an immersive virtual space that empowers people to communicate, connect, and collaborate with each other just like they would in real life. We want to help you understand Remo's features and interface so you enjoy #CloudExecConnect with no hassle. 

Some of the interesting features Remo offers are,
A roundtable experience which allows 6 people at a table to interact with one another.
The floor bifurcation which allows you to experience different hubs at the same time like you would in-person
A biocard option that lets you access people's LinkedIn and other social media profiles for instant connection
It allows you to have a table chat, personal chat or general chat. It also lets you ask questions anonymously, without fear of judgement.
There is a whiteboard facility for every table which allows the participants of that table to draw, write, upload content, add mind maps and diagrams, etc.
Remo is also extremely easy to use and navigate, and if you would like to familiarize yourself with the platform here is a quick video. 

The Women in Cloud team is excited to bring the #CloudExecConnect to your doorstep this July and we are hopeful that this 2-day virtual event will be an experience like none other and we look forward to your presence.

For more information on #CloudExecConnect, click here.
https://womenincloud.com/wp-content/uploads/2020/07/a9292035-3a-copy-49_00000000000000000001o-768x519-1.jpg
519
768
wicwpuser
https://www.womenincloud.com/wp-content/uploads/2021/04/logo.png
wicwpuser
2020-07-16 19:23:00
2020-07-16 19:23:02
Digital Etiquette: Showing Up Well for High Impact Virtual Networking Events