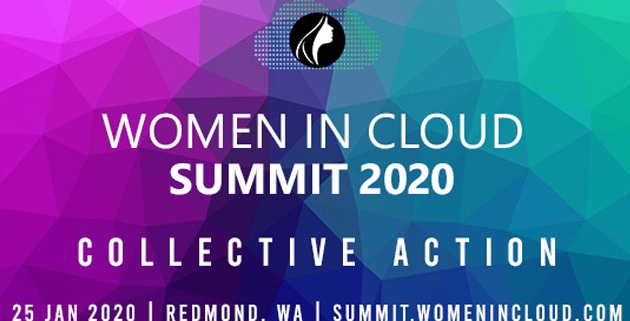 As we wind down 2019, we can't help but think of all the things we have to be thankful for this past year. Although we still have a lot of work to do in order to see gender equality in the tech industry, we've also accomplished a lot of things this past year.
We've grown our WIC active network to over 1500 members, more than double where we were one year ago and, as a result, we've tripled our audience during this time.

We launched the

online WIC Network community

to give members an exclusive space to communicate, network, share ideas and help each other through mutual generosity.

We build an Advisor Network comprised of industry executives and subject matter experts.

Our Accelerator impact generated $50M in pipeline opportunities and $6M in investments.

We've expanded the Cloud Accelerator into 8 countries: Canada, UK, France, Germany, India, Kenya, the US and Dubai.

We now have 60+ major companies directly participating in the community.

And we've garnered major media coverage for WIC on Microsoft, GeekWire, TechNative and more.
And as we move into 2020, we know we can accomplish amazing things. We're going to continue launching our community in new countries and territories, add new programs like Executive Dinners and Innovation Hacks, continue to evolve our community into a true Generosity Network, and much more.
We kick off the year with our annual summit, and this year's promises to be extra special. We've added a number of amazing new experiences that not only accelerate growth for women-led technology businesses, but also inspire, connect and harness the amazing power of the community to help solve other major problems we're facing across the globe.
Here are our top 5 reasons why you can't miss out on the 2020 summit:
Learn from relevant industry leaders

: there are so many amazing speakers at the summit this year including critically acclaimed performer and author Patti Dobrowolski, and corporate vice president for Microsoft's One Commercial Partner business, Gavriella Schuster, and many others. You'll wish you could listen to all of them!

Change the world and yourself in the process

–

#AISolutions2030 Innovation Hub

: Women In Cloud and IdeaGen have partnered together with industry leaders and policy makers to further the 2030 UN global goals through AI-based solutions by launching the

#AISolutions2030 Innovation Hub

. Leveraging the UN Knowledge Repository, WIC will be bringing some of the sharpest tech and business minds together in one place for a greater purpose, and promises to produce strategic AI solutions directed at solving the UN's SDG goals.

See up-and-coming women entrepreneurs and women-led business emerging into the spotlight first hand through the #CloudInnovateHER Pitch Challenge

: women-led companies developing an enterprise-ready cloud solution that's earned less than $10M in the past 12 months qualify to enter the pitch challenge. Four finalists will have an opportunity to deliver their pitch during WIC Summit 2020. The winner will be selected at the pitch competition and will receive a prize.

Join in on scintillating conversation with industry leaders at the #CloudExecConnect Executive Roundtables

: an intimate group eating together and inspiring through meaningful dialogue around one topic. Each table conversation is facilitated by an industry executive, and you can pick the topic that interests you most.

Multiple opportunities to network

: in addition to the #CloudExecConnect Executive Roundtables, there's also Collective Action Lounge, as well as the #CloudCommunityConnect: Community Roundtables that are community lead roundtables similar to the executive roundtables. With over 1500 attendees, there are bound to be a number of influencers you can get connected to.
There are several more reasons to attend, so be sure to register today!
Also, there are other ways to get involved if you're interested:
https://womenincloud.com/wp-content/uploads/2019/12/wic2020.jpg
421
630
wicwpuser
https://www.womenincloud.com/wp-content/uploads/2021/04/logo.png
wicwpuser
2019-12-11 16:18:39
2020-01-10 09:59:40
Countdown to the new year and the Women In Cloud 2020 Summit