On May 6, the Women in Cloud community joined together as we hosted a premier #WICxFortune100 Lunch and Learn with Microsoft. This series is a networking experience designed to open the doors for leading fortune companies and brands to connect with technology business builders. This intimate learning series offers a space to learn about how to do business with Microsoft, understand their company culture, and get access to decision makers & procurement officers.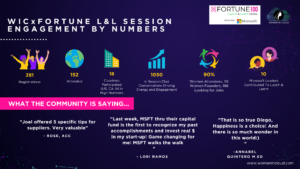 To begin the event, Chaitra Vedullapalli, Co-Founder and President of Women in Cloud (WIC) set the stage delving into the impact of the partnership between Microsoft and WIC, focusing on important topics such as:
Driving an Inclusive Digital Economy

by accelerating representation of 50% of population (women) that were left out in the $7 Trillion cloud opportunity

Cloud Skilling

– Providing 1,500 cloud scholarship and First Cloud Center of Excellence

Inspire fortune brands and other companies to partner strategically to accelerate

Corporate ESG efforts
Digital Co-Selling

with Microsoft & access to Community PDM

Cloud Marketplace

– Diversity Lens on The Marketplace

Voices for Innovation

– Policy Advocacy
Watch Empowering Women in Tech keynote with Charlotte Yarkoni here:
Following Chaitra Vedullapalli's Opening Remarks, an inspirational Keynote: Empowering Women in Tech was led by Charlotte Yarkoni, President, Commerce + Ecosystems at Microsoft.She shared the impactful statistics that less than 2% of software startups in the USA feature a woman founder, and the Covid-19 pandemic will increase the time it will take to close the digital gender gap by 36 years. As a strong advocate for girls, young women, and women to be in STEM, Charlotte explained how diverse companies generate more innovation and better financial results than non/less diverse organizations.
The attendee chat feed was filling fast as the community quickly resonated with Charlotte. 
These alarming statistics call for change, showing how important workplaces and allies are to creating economic access and opportunities for all. Charlotte showed us how Microsoft values creating a healthy ecosystem for employees, partners, and customers to empower every person and every organization on the planet to achieve more. Microsoft is committed to creating a culture where diverse perspectives are invited, where inclusive behavior and authenticity are the norm, and everyone is empowered to bring their true self to work. Microsoft has implemented multiple programs to create access for women, such as a program supporting women founders in their end-to-end start-up journey, and a mentoring program to pair women employees at Microsoft with women founders. Through collective action, we can foster women's talent in tech, which is a critical component to growing women's presence in technology.
Watch the Inclusive Economic Opportunity Panel here:
Next, we excitedly introduced the Inclusive Economic Opportunity Panel: Talent, Business Development, and Supplier Diversity with moderator Diego Rejtman – GM, Developer Relations at Microsoft, Mazhar Mohammed – CVP, Partner & Seller Experience at Microsoft, Jaci Santos Shibao – Tech and Sales Strategy, GPS Sr Director; WAM ERG Co-Chair at Microsoft, and Shara Holliday – Sr Director, Procurement at Microsoft.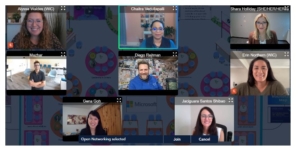 The attendees were heavily engaged in the conversation via the chat, making this panel highly interactive for the audience. The panelists provided numerous words of wisdom to the audience regarding the Microsoft workforce, partnerships, customers, and resources for entrepreneurs to be positioned for supplier diversity opportunities —  giving the attendees a realistic look at how Microsoft values and celebrates a diverse ecosystem. 
A unique component of the #WICxFortune100 Lunch and Learn Series is the Cloud Solution Showcase, where we feature two entrepreneurs and their solutions for the marketplace. This month, Lucy Flores – Elyon International, and Natasha Tetruyeva – eKidz.eu were brought to the stage to bring awareness and education to their companies. 
Watch Elyon International Inc here: 
Watch eKidz.eu here: 
Closing out the session, but definitely a community favorite, was the Roundtable Advisor Experience where leaders in Microsoft met face to face (virtually) with attendees and discussed important topics: Leadership & careers, Changemaking for inclusive growth, Women thriving at work, Skilling opportunities, Supplier diversity, Marketplace engagement, and Hiring & culture.
Featuring Microsoft Roundtable Advisors: 
Diego Rejtman – GM, Developer Relations

Gena Goh – Channel Inclusion and Impact Strategy Lead, Global Partner Solutions

Jaci Santos Shibao – Tech and Sales Strategy, Sr Director, Global Partner Solutions; Women at Microsoft ERG Co-Chair, Microsoft

Debbie Uttecht – Partner Marketing Lead, Worldwide Learning

Joel Gillespie – Program Manager, Supplier Diversity

Madiha Khan – Engagement Lead, Commercial Marketplace Services

Michelle Shafer – Sr Talent Acquisition Manager, Talent Acquisition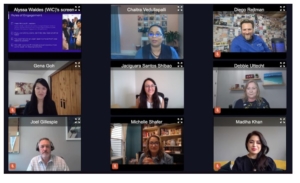 Watch the Introduction to the Roundtables and the event Closing Remarks to catch a glimpse of this experience.
As the highest registered and attended #WICxFortune100 Lunch and Learn in the series, this event impacted greatly the Women in Cloud community. With outstanding engagement on social media (Tracie Cobian) and in the event chat (Stacy Tatem), WIC encouraged this behavior with gift cards giveaways. 
Useful Resources: 
https://womenincloud.com/wp-content/uploads/2022/05/Fortune-LL-Session-Microsoft.png
1080
1920
wicwpuser
https://www.womenincloud.com/wp-content/uploads/2021/04/logo.png
wicwpuser
2022-05-23 05:39:56
2022-05-23 05:39:56
#WICxFortune100 Lunch and Learn with Microsoft : Recap