ESG – Three simple letters that will continue to have a tremendous impact on the way we do business today. 
Understanding our environmental footprint, advances in social infrastructure and progress in governance and policy-making are the critical backbone for the way we tackle some of the world's great challenges.  This is the new gold standard for global business.  Whether you are the CEO or executive for a Fortune 100 company, large enterprise or even a small to mid-sized business, ESG is changing the landscape for all of us to build a more inclusive, sustainable and ethical economy that benefits everyone, including generations to come.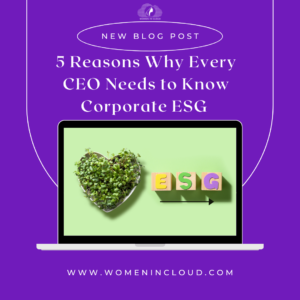 According to Dell, Deloitte, Microsoft and other industry thought leaders, here are the top reasons why every CEO and future leader need to know ESG:
Builds trust and stakeholder value

– A company people can build and stand for trust and believe in is a company clients, customers and stakeholders will support. ESG practices and operating models empower businesses to develop strong partnerships across their communities and value chain, and help ensure all stakeholders are considered as a key part of any solution. Harvard Business Review reported that workers at companies where trust is high report 106% greater energy in the office, 74% lower stress levels, 76% greater engagement, and 50% more productivity than their peers at low-trust businesses.

Manages effective compliance, policy and regulatory practices – All businesses are affected by some or other forms of regulations depending upon the markets they operate. The business with strong ESG measures, especially on Governance, invite less scrutiny from the regulators and have greater operational freedom. They also face less pressure from climate change from activists, employee unions etc. The consumers also prefer such brands too. For example, Starbucks introduced "Starbucks China Parent Care Program" in 2017 which provided health coverage to over 10,000 parents of Starbucks' employees in China. It was seen as a strategic move as Starbucks planned to expand in China amid the growing trade dispute between USA & China.
Reduces cost, mitigates risk and increases productivity – Companies which choose to use more sustainable methods of production and manufacturing tend to be more efficient and reduce their costs. One such example is Nestlé, which announced that it will invest up to USD 2.1 billion by 2025 to shift from virgin plastic packaging to food-grade recycled plastics and the development of other sustainable packaging solutions. This will not only help it cut its carbon footprint but also save it from non-compliance costs among different geographies where it operates and have stricter laws related to the use of plastic packaging.
Attracts and retains top talent – With 50% of the world's population under 25 and the pandemic changing the face of the marketplace in all industries, attracting the right talent has become a job unto itself. However, ESG is creating new opportunities to transform that process. Strong companies with good ESG scores attract better talent and have longer retention. Having a clear sustainability, social and diverse mission and vision generates an internal sense of pride among employees. The younger generation prefers to work for companies with stronger commitments towards society. As per a study by Cone Communications on Millennial Employee Engagement in 2016, 64% of Millennials consider a company's social and environmental commitments when deciding where to work.  And this is just the beginning.  CEOs must think about succession planning and how to accommodate the dynamically changing workforce mindset.
Creates meaningful global impact through innovation – In a post-pandemic world, innovation that creates impact has become a cornerstone for successful brands to thrive.  The great news? The opportunities for ESG are endless. Prior to COVID, only one third of companies reported that social impact was a core pillar of their business.  Now, that number has shifted greatly as more and more leaders see the value in ESG impact-related initiatives that are adding to global recovery. In essence, companies that are adopting ESG operating models can improve people's lives through healthcare, education, sustainability and digital inclusion, among a host of other topics, enabling companies to double-down on core values and act boldly to create real change for the success of their business and society.
In response to the growing awareness of ESG, Women in Cloud (WIC), a community-led economic development organization, launched their WICxLEAD program, designed to empower corporate women and entrepreneurs to ignite economic access. 
Over a six-week, 25 purpose-driven women scholars will learn how to be among the first to lead and influence digital transformation projects through cloud and AI technology, teaching them how to grow their executive presence, personal brand identity, public speaking impact, global access creation and community development strategies giving them a powerful platform to accelerate as industry ESG influencers and purpose-driven leaders.
The uniquely created accelerator program will help corporate women find and define their leadership purpose and create impactful ESG strategies, operating models and reporting mechanisms that support women tech entrepreneurs in the supplier ecosystem. Scholars will also gain access to a global network while learning from industry experts to accelerate their influence and market impact.
This leadership program is open to women-led companies and corporations looking to develop their women leaders. Applications are open until Jul15, 30, 2022. To learn more about the WICxLEAD program and secure your spot visit: https://womenincloud.com/wicxlead/.
NASDAQ said it very well in a recent article. Environmental, social and governance issues should be a top concern of corporate management and boards. There was a time when a public stance on ESG issues was a public relations tactic. However, in today's rapidly changing business climate, attention to ESG issues is becoming critical to long-term competitive success. Welcome to the next generation of global business standards. 
This is the power of how three simple letters are architecting the future of economic success for top brands who want to create the greatest impact possible.
https://womenincloud.com/wp-content/uploads/2022/07/Green-Business-Blog-Post-Instagram-Post.png
1080
1080
wicwpuser
https://www.womenincloud.com/wp-content/uploads/2021/04/logo.png
wicwpuser
2022-07-01 21:09:14
2022-07-01 21:09:14
5 Reasons Why Every CEO Needs to Know Corporate ESG