WICxAnnual Summit 2022 : Meet the Nominees for the Inaugural WICxALLIES Awards
As part of the #WICxALLIES campaign, Women in Cloud has partnered with tech-industry leader Gavriella Schuster to bring you the inaugural WICxALLIES Awards – recognizing the individuals who demonstrate allyship by empowering women in tech through Advocacy, Listening, Lifting, Including, Elevating and Sponsoring. 
Allies are the men and women building for inclusion through their everyday actions to bring more women into their network, organization and leadership roles. Allies are recognized across three categories: 
Overall Allyship Award

– recognizing an ally who clearly demonstrates their work who act to Advocate, Listen, Lift, Include, Elevate and Sponsor women in their network with examples of outcomes.

Sponsor Award

– recognizing a leader and ally who clearly demonstrates their work to sponsor women in tech through financial empowerment and mentorship.

Advocate Award

– recognizing a leader and ally who clearly demonstrates their work to advocate for women in tech through their supplier and organizational ecosystems.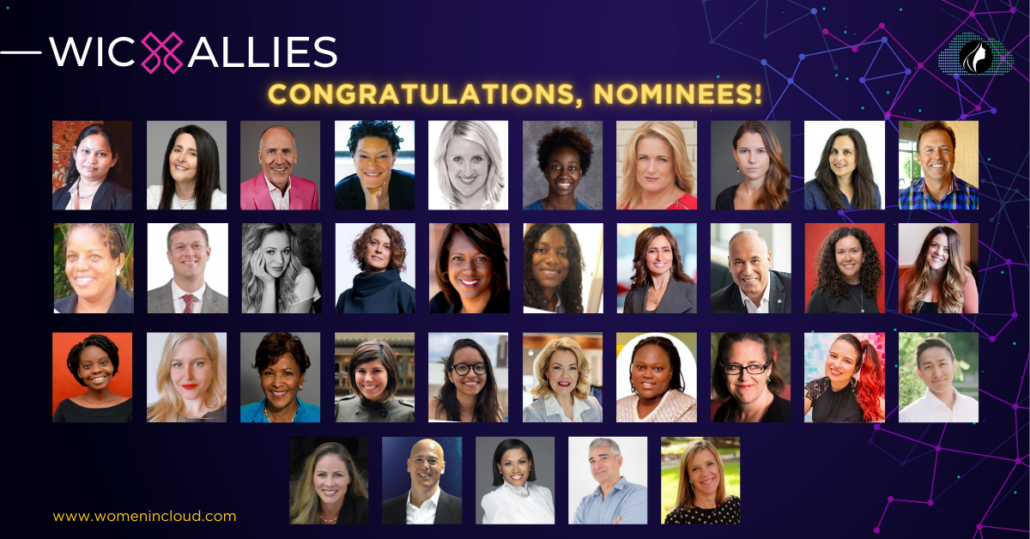 We are overwhelmed with the number of nominations we received and the incredible impact the nominees have made on their communities. Take a look at this incredible list of allies nominated for the inaugural awards: 
Sophia Priyadarshini – Cybersecurity Crusader, InstaSafe

Karin Moore – Ph.D Candidate, Pepperdine University (Sept 2021); Former Sr. Director of the PMO, Teradata 

John Dathan – General Manager and Senior Vice President, Insight Canada

Jessica Robinson – CEO, PurePoint International

Kate Brodock – CEO, Women 2.0, Founding Partner at the W Fund

Gina Fratarcangeli – Managing Director Mid-West Sales, Accenture

Neirda Thompson-Pemberton – Executive Director, FUNducation Inc 

Kristin

Pelletier – Owner and Instructor, Access Computer Training (ACT) 

Anne Cocquyt – Founder & CEO, The Guild 

Anamarie Franc – Managing Director, SAP

Jim Wilson – Partner, Costanoa Ventures

Eunice Nisbett – CEO/Manager, Savvy Corporate Planners

Pat Sullivan – Cloud First Lead, Accenture 

Miri Rodriguez – Business Program Manager and Storyteller, Microsoft

Lori Eberly – CEO, Radius ECD

Shari Dunn – CEO & Principal, ITBOM LLC

Angela Green – Area Manager, Amazon; CEO, I'm a Survivor Mission 

Maria Aiello – Global Head, Real Estate & Mortgages Technologies

Dawn-Marie Elder – COO, SIPPIO

Octavian Tanase – SVP Hybrid Cloud Engineering, NetApp

Sherlander "Lani" Phillips – VP One Commercial Channel Sales Organization, Microsoft

Rajiv Kapoor – Co-founder, Chai Angels

Ekaterina Vinnichenko – Program Manager of Developer Relations team, Google Russia

Deborah Akerele – Executive Director, Valouree Foundation 

Julie Wagner – Sales Manager, Zones LLC

Mara Larson-Richard – CEO, Ada's List 

Glynis

Bryan – CFO, Insight Canada

Sarah Dale – General Manager, International Paper

Vince Menzione – Chief Guide and Founder, Ultimate Partnerships

Beatriz

Oliveira – IT Infrastructure Consultant, Telefonica; Community Manager, SysAdminas

Regina

Manfredi – VP, Global Alliances – AWS, Teradata 

Turayo

Falade – Founder, The Complete Woman 

Erin Reilly – Founder & Director, Texas Immersive Institute

Ashley Ojeda – Business Development Coach, Nonprofit Founder & Author of Jefa in Training

Nathan Chung – Senior Consultant, Azure Cloud & AI, Microsoft
Come cheer on our nominees at the WICxALLIES Awards, part of the WICxAnnualSummit2022! Get your tickets here.
https://womenincloud.com/wp-content/uploads/2022/01/Nominees-WICxALLIES-1200-x-628-px-3.png
628
1200
wicwpuser
https://www.womenincloud.com/wp-content/uploads/2021/04/logo.png
wicwpuser
2022-01-18 23:06:37
2022-01-19 17:39:39
WICxAnnual Summit 2022 : Meet the Nominees for the Inaugural WICxALLIES Awards